Netizens are tired of YG Entertainment's excessive media play
In light of the recent controversy between Mnet and iKON's exclusion from the charts, the issue focused towards YG Entertainment's excessive media play. 
A post on Pann highlighted one of the reasonable explanation as to why Mnet decided to exclude iKON's warm single "My Type" from their official rankings. As Mnet has stated in the past, non-promoted tracks are excluded from winning the trophy. The only artists who was excluded from the rule was Busker Busker, the winner of Mnet's Superstar K3, while Roy Kim, an artist signed by CJ E&M, Naul, IU and other artists did not react to similar issues.
This statement led to netizens to focus on YG Entertainment's reaction towards iKON's exclusion from the official rankings as they accused the agency of putting out articles as deliberate media play instead.
As a response, the netizens expressed their thoughts on the controversy and revealed to have been fed up of the agency's media play.
Meanwhile, iKON is preparing for the release of WELCOME BACK, the first half of their album, on October 1st and an offline release on October 5th.
Below are collections of news titles that netizens claim are media play by YG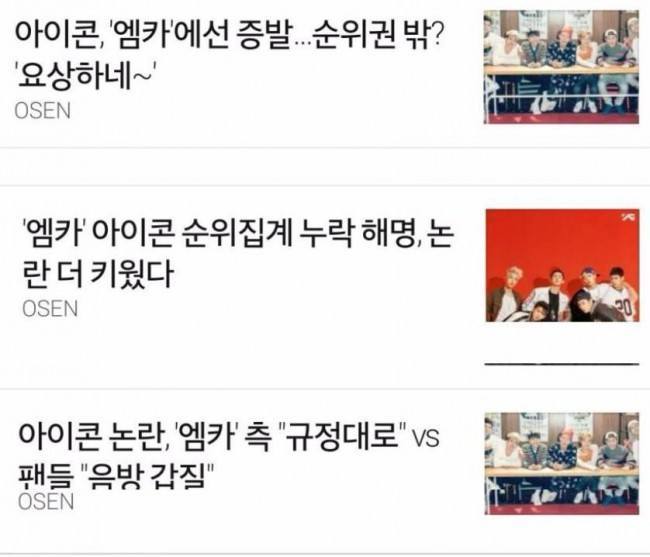 "IKON, disappears from MCountdown..outside of rank range? that's weird~"
"MCountdown responds, the issue grows bigger"
"IKON controversy MCountdown vs fans 'Rules' vs 'Abuse of Power'."
Also one line in an article made netizens all the more suspicious, and the line was a quote by YG employee "We are strongly suspicious that they may have neglected IKON from nominees in order to give another group 1st place."
NETIZEN REACTIONS

Koreaboo has collected reactions from Netizens who commented on the original article from our Korean source. The below comments are the most popular comments at the time of this article being published.
---
[+ 377, – 18] No wonder broadcast channels don't like YG. They want an image of nobility with their group so even when they're rookies they don't go to any other smaller shows and pick and choose. This time they wanted 1st place without even making an appearance. Of course they're going to think you arrogant
[+ 299, – 31] I think YG expects a lot of things from IKON. They didn't do anything like this for WINNER or even Big Bang. Although their concert tickets are all becoming filled with invitation seats..it was overshooting to have a rookie group hold a concert in such a giant venue to begin with.
[+ 280, – 92] YG went a little too far this time.. and honestly I think there is a definite possibility that there may have been sajaegi involved (not worked on by the company but by fans). Besides that their media play during the JTBC incident and even against M Countdown is too much..
Source: Pann
Share This Post