Now THIS Is Why Everyone Loves Running Man
Running Man is one of the many top variety shows in South Korea whose popularity has spread throughout Asia and all other parts of the world.

Though there are several reasons to love this variety show, we explore one specific incident that occurred a few years ago in 2012 in which Wonder Girls member Yubin was saved by the cast before a more terrible accident occurred on the set.
Originally recorded on October 9, 2012, the cast and the guests were given a mission to jump over a vaulting horse and reach out the furthest to gain the most amount of points as indicated by the colors on the ground with the pool of water being the least amount. However, during one of her takes, Yubin takes down the vaulting horse with her but due to the quick reactions of several of the Running Man cast and staff member, she was saved from being injured further.
Looking at the name tags and fancams released from that day, fans have praised Yoo Jae Suk, Gary and Lee Kwang Soo, as well as an unidentified staff member, from saving Yubin from worse injuries.
The original episode (#117) aired on October 28, 2012 and guested Ji Jin Hee, Ji Sung, Song Chang Eui, miss A's Suzy and Wonder Girls' Yubin.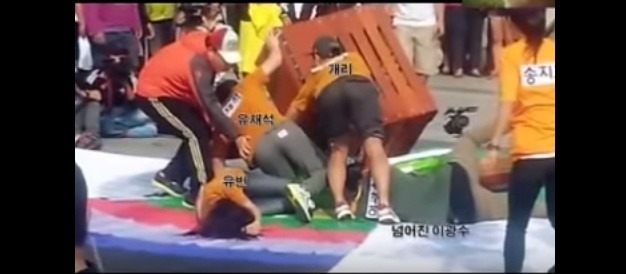 Source: Bada
Share This Post