[★TRENDING] Insiders Reveal The Secret Behind Kim Tae Hee's Wedding Dress and Rain's Suit
There's a reason why the newlywed power couple chose to wear simple wedding attire instead of going overly extravagant.
The couple surprised everyone with the choices they made for what they wore during their wedding ceremony. Kim Tae Hee chose to wear a simple wedding dress and Rain wore a suit he already owned.  Many wondered why the richest celebrity couple didn't go all out and throw a fairytale-like wedding where the bride would wear a princess wedding gown and the groom would wear an expensive suit that was designed and made from the best material.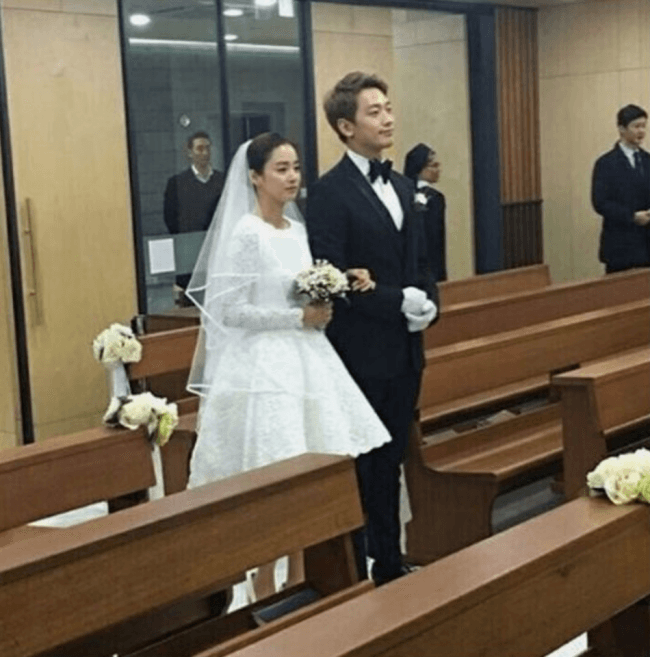 In officially released pictures of their wedding as well as pictures uploaded to Instagram by fellow celebrities, Kim Tae Hee's mini wedding dress caught everyone's eye causing them to wonder what brand it was from. Most top celebrity stars would have aimed for a grand wedding gown from a prestigious brand, but it was revealed that Kim Tae Hee opted to wear a self-designed dress.
Kim Tae Hee's friends who were at the revealed the truth behind her choice of attire:
"The mini dress left a strong impression as it was simple and elegant. She didn't want to go for an outlandish look. She chose to wear a mini-dress with simple design that anyone could wear. She did this out of the fact she didn't want to wear something ostentatious and expensive just because it was celebrity wedding. She felt that the entire country was going through a tough time and she didn't want the public to feel like they lived in a different world."
CEO Son Joo Hee of Jung Saem Mool, who took care of the wedding makeup, explained that
"She didn't want a tiara, confetti, or any lighting. She wanted it to be down-to-earth and holy. It was more moving and the couple shone brighter because of this."
In regards to Rain's suit, there were two reasons why he decided to wear an old one instead of buying a brand new one.
An insider that is well acquainted with Rain revealed the truth behind Rain's suit:
"Rain is a big guy and doesn't fit into regular men's clothes. Especially his broad shoulders make it impossible for him to wear ready made suits. He didn't, however, have time to prepare this because the preparations were kept so secret. After the announcement on the 18th, many famous brands lined up wanting to sponsor him with a suit, but due to his wishes to keep the wedding as confidential and down-to-earth as possible, he picked out something that fit the occasion from his wardrobe and wore that."
The couple's deepness of thought and caring heart has touched the people of Korea who are currently showering them with blessings and love.
Source: Sports Seoul
Share This Post