Seungri reveals that G-Dragon and Lee Jooyeon are NOT dating
According to Seungri, G-Dragon is single!
BIGBANG's Seungri revealed that G-Dragon is NOT dating Lee Jooyeon on the latest episode of Knowing Bros.
It all started when the cast members of Knowing Bros asked Seungri about Taeyang's upcoming wedding, and his personal thoughts on marriage.
"I currently don't have any plans on getting married. Because of my activities in Japan, I have to leave Korea often." – Seungri.
The cast members wanted to know more details on the personal lives of BIGBANG members and who was currently dating.
Seungri ended up stating that no one except Taeyang was currently dating.. and didn't mention G-Dragon as dating  Jooyeon!
"Except for Taeyang, none of the Big Bang members have girlfriends." – Seungri.
G-Dragon fans, you can relax now! Looks like he's still single and ready to mingle.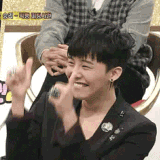 Share This Post