"SNL Korea 8" mocks G-Dragon, Sulli and Seolhyun on their latest skit
SNL Korea 8 recently parodied two of the most recent SNS scandals featuring Big Bang's G-Dragon and former f(x) member, Sulli.
tvN's Saturday Night Live Korea: Season 8's latest episode on September 24th took a stab at a couple of Instagram incidents, with the most recent being that of G-Dragon and his alleged girlfriend, Nana Komatsu and the second of a few of Sulli's past Instagram photos.
In a television ad-like skit, Jung Sung Ho, as an announcer, introduced a new fictional phone app called "Fanstagram" for celebrities who post risky photos or create controversy on their SNS accounts. When celebrities accidentally post a picture that cause a big stir, the app can save the day. The app has a special button to automatically edit the risky photos to funny .
The first example was a jab at G-Dragon's latest Instagram scandal. Comedian Kwon Hyuk Soo and actress Lee Soo Min played a celebrity couple on a private date with one another when the guy decides to post pictures of their romantic outings on his private page. When his girlfriend says, "But your fans will see and find out about us," he responds, "Don't worry, this is a private account so they won't be able to see it". However, when he accidentally posts the pictures publicly, the couple starts to panic before being introduced to the "Fanstagram" app. With a click of the "privacy button" on "Fanstagram", the girlfriend is replaced with a grandma. This caused Lee Se-Young, who played a fan looking at Kwon Hyuk Soo's page, to be relieved after seeing the edited photos.
The second parody is of Sulli's previous string of controversial Instagram posts. A female celebrity (played by Lee Soo Min) was posting pictures of her hiking workout with her arms spread out. Using the same "mistake" button, the photo is transformed into of a skydiver. This parodied photos of Sulli's hike where she wore a thin jacket with no bra on underneath. Afterwards, Lee Soo Min took a can of whipped cream and sprayed it into her mouth before looking seductively into the camera. This parodied Sulli's previous whipped cream incident.
The skit also parodies the scandal between AOA's Seolhyun and Zico by having a female cast member dress up in the same clothes Seolhyun was spotted in when Dispatch released the picture of the two artists dating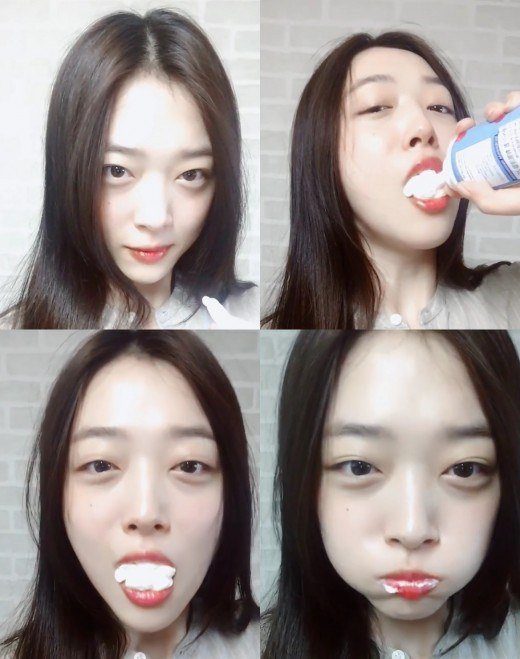 Be sure to watch the hilarious SNL Korea 8 skit below!
Share This Post