These 12 K-Pop Lightsticks Have Been Officially Rated The Best Lighsticks
Fans tested 12 different lightsticks to determine which ones shone brightest and longest, here are the results.
Lightsticks play a crucial role for K-Pop fandoms. It defines the idol groups' identity among their fans and helps create amazing fan oceans during concerts. Among all the various merchandise groups have introduced for fans to show their support, lightsticks may be the most important. Lightsticks have become such a popular item for fans that companies take every effort to come up with a unique design. With various shapes, colors, and sizes, each is made to represent the group and stand out from the rest.
Using a lux meter, an instrument for measuring the intensity of light, Korean YouTube channel MUH Lab ranked twelve lightsticks by brightness and battery life.
Brightness
1. SHINee – Diamond Light Stick (Lithic Reduction) (1001 Lux)
2. iKON – Konbat (Baseball Bat) (665 Lux)
3. BTS – Army Bomb (530 Lux)
With their diamond and blue-colored light stick, SHINee proved their name by being the brightest one.
This long baseball bat light stick of iKON makes it emit more light and is truly iconic.
Being the image of their company, BTS' Army Bomb made sure to "explode" with the amount of light their light stick have.
4. BTOB – Saxophone stick (435 Lux)
5. EXO – Pharynx (330 Lux)
6. GOT7 – Baby bird (292 Lux)
BTOB also made sure their light stick was loud and proud as a saxophone.
EXO's light stick is also unique and well-known among fandoms because of their signature logo.
Who knew a baby bird can shine so bright like GOT7's light stick?
7. BEAST – Rose stick (248 Lux)
8. WINNER – I.C. stick (188 Lux)
9. 2PM – (145 Lux)
BEAST's light stick is as elegant as its shape, and the light is no joke.
The color of the light stick can create a beautiful fan ocean and is a real WINNER
The light stick is so bright no wonder 2PM's fandom is called "Hottest"!
10. SECHSKIES – Hollow bread stick (100 Lux)
11. BIGBANG – Bang light stick (20 Lux)
12. VIXX – Starlight stick (6 Lux)
SECHSKIES is so great they can even make a hollow bread go bright with their light stick.
Of course, the legendary BIGBANG is one of the old-gens who didn't miss out on the new generation's trend.
VIXX's fandom isn't called "Starlight" for nothing, look how their light stick glows.
Durability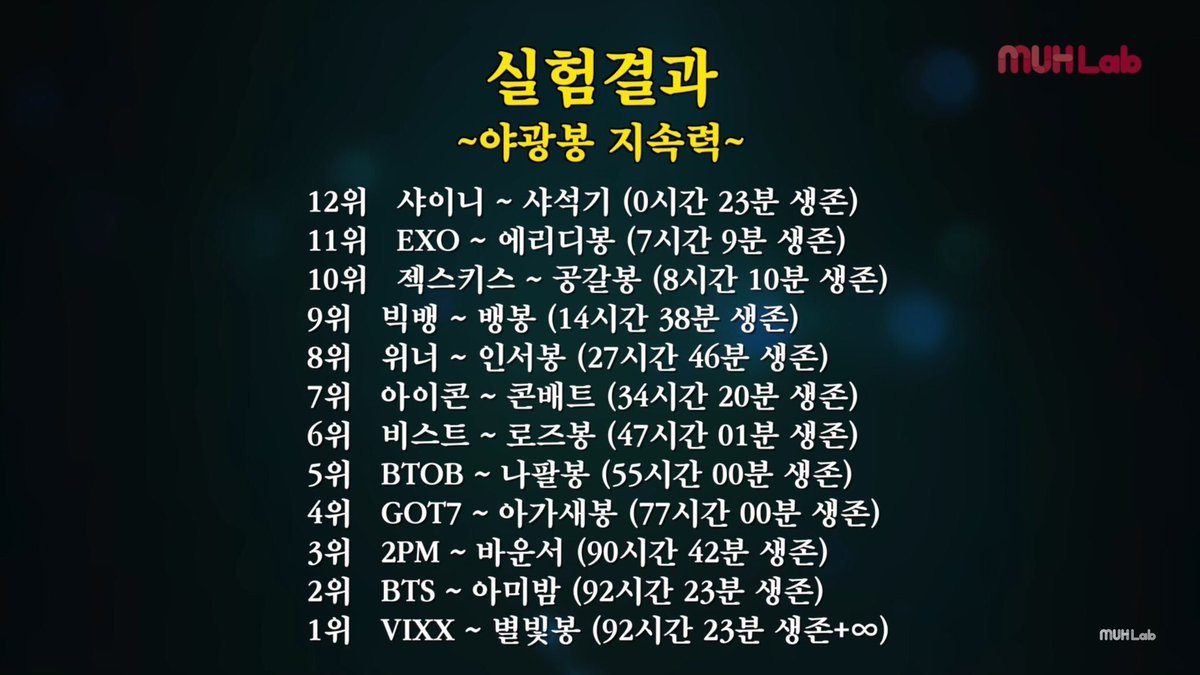 1. VIXX Starlight stick – still going after 92 hours
2. BTS Army Bomb – 92 hours
3. 2PM – 90 hours
4. GOT7 Baby bird – 77 hours
5. BTOB Saxophone stick – 55 hours
6. BEAST Rose stick – 47 hours
7. iKON Baseball bat – 34 hours
8. WINNER I.C. stick – 27 hours
9. BIGBANG Bang light stick – 17 hours
10. SECHSKIES Hollow bread stick – 8 hours
11. EXO Pharynx – 7 hours
12. SHINee Diamond light stick – 23 minutes
Watch the science happen here:
These are only a handful of the many unique lightsticks K-Pop groups have to offer, and more exciting designs are sure to pop up the minute another group debuts.
Share This Post