A Woman's Period Leaked On A Public Bus, So A Korean Man Saved Her Day In The Best Way
He saved her from total embarrassment.
A Korean woman shared a story of her encounter with an exceptionally sweet man on a bus…

…and asked people for help in finding him through an anonymous neighborhood Facebook page. The full story is below.
She first explained that she had a very irregular menstruation cycle, and that she happened to be on a public bus.

Plus, she had just gotten out of a photo shoot, so she was wearing a short skirt. That's when she realized her period had hit.
Image: Newsweek
As her period leaked through her dress and onto her thigh, she realized she wouldn't be able to get up without complete embarrassment.
Image: Hyukji
All of a sudden, a kind man sitting next to her caught on to the situation and decided to help her out.

He spilled some strawberry milk near her and gave her his jacket with tissues in his pocket, saying, "I'm sorry I spilled it. You can take my clothes so tie it around you before you leave."

She was absolutely moved by his sweetness, but before she could thank him, he got off the bus.

Thanks to her Facebook post, however, the man's friend was able to help her find him!

It's this guy.

— The man's friend
The hero's friend shared a screenshot of the KakaoTalk chat he had with his friend right after he had helped her.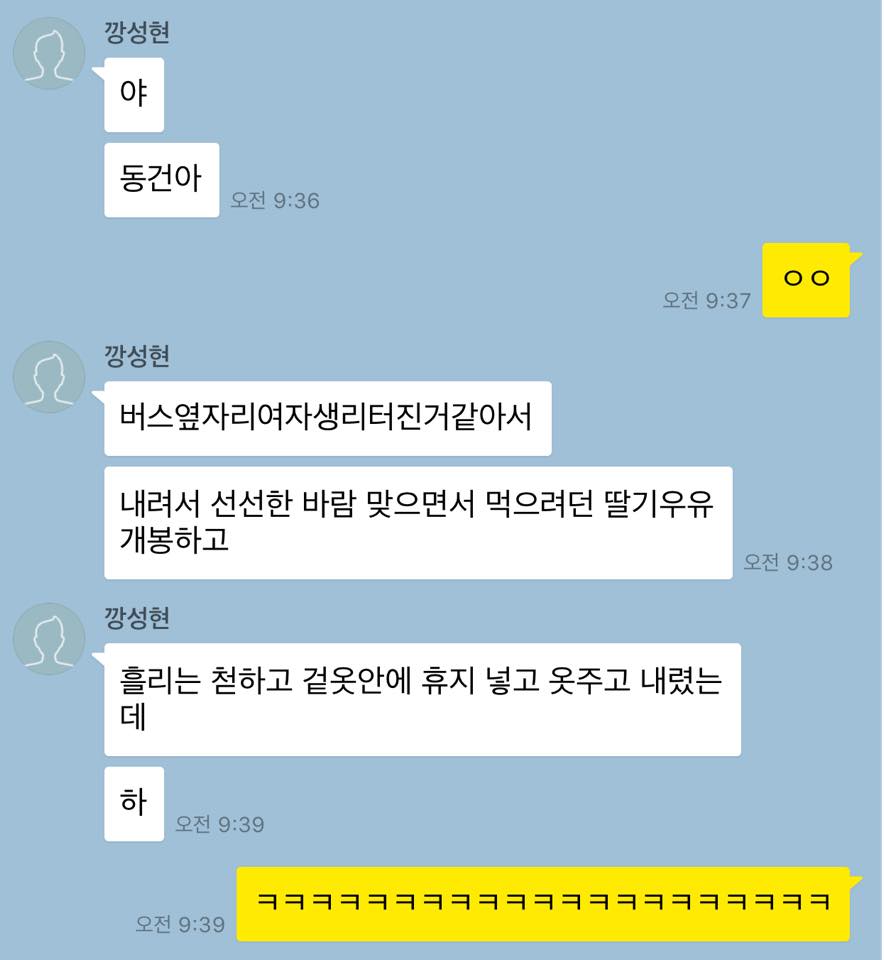 Man: Hey, Dong Gun.
Friend: Yeah.
Man: It looked like the girl sitting next to me on the bus just got her period, so I opened the strawberry milk I was going to drink after I got off and pretended to spill it on her, then I stuffed some tissues in my pocket and gave it to her Ha
Friend: ㅋㅋㅋㅋㅋㅋㅋㅋㅋㅋㅋㅋㅋㅋ
Although she offered to buy him a new jacket and a meal for his troubles, he simply asked her for another strawberry milk.

Don't worry about the cost of my clothes ㅎㅎ If we run into each other again next time, please buy me a strawberry milk ㅎㅅㅎ

— Kang Sung Hyun
His simple act of kindness earned him fans all around the world when the story went viral, and he's now famous as "Strawberry Milk Oppa"!
Meet "Strawberry Milk Oppa" : The Hero Who Saved The Woman On Her Period
Share This Post