God-G's (Park Myung Soo and IU) "Leon" is unstoppable with over a dozen perfect all-kills
Infinite Challenge team God-G – Park Myung Soo and IU – is absolutely unstoppable on the charts as they continue to hit one perfect all-kill after another with "Leon."
Following the airing of their bi-yearly music festival, Infinite Challenge's album was released on August 22nd and its tracks quickly topped the charts with its only rival songs from contestants on Show Me The Money 4.
In particular, team God-G has been on an unstoppable run with multiple perfect all-kill achievements on the charts with "Leon" – that is taking the #1 on both real-time and daily charts including MelOn, Mnet, Bugs Olleh Music, Soribada, Genie, Naver Music, and monkey 3.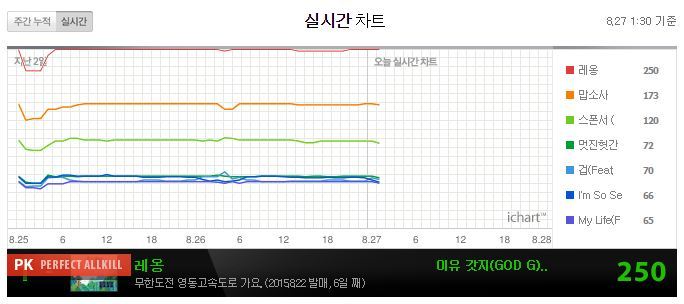 For example (see chart above), on August 25th between 5:30am through August 26th 3:30am KST, the track hit a perfect all-kill each time before temporarily dipping but going back on track at around 5am KST until 1pm KST.
As of August 27th 3:30am KST, God-G is #2 on Olleh Music and Naver Music's real-time chart with E-Sens' recently released album The Anecdote's title track in #1.
If you haven't heard "Leon" yet, now's a good time as any! Watch after the chart below: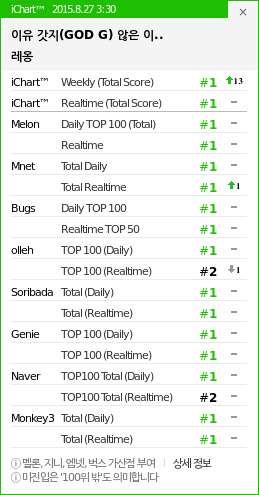 Share This Post