Tao's father shares emotional letter revealing he is bringing Tao "back home"
On April 22nd, an account claiming to be the father of EXO's Tao left a heartfelt letter explaining his decision to bring his son home.
The letter is as follows:
"Hello followers of Huang Zi Tao, I am his father.
"My emotions are very complicated as I write this letter as I know that my decision will hurt many people, including my son Huang Zi Tao. Although I have thought very much about this, in his heart he may not understand and hate my selfishness. Throughout this whole journey I know how much he likes his group and perseveres in his work, so whether or not to have him leave Korea has become a difficult and painful decision for me…but as a father, I have the responsibility to make sure that he grows up happily and healthily and I cannot bear to see his health continue to deteriorate! Between his staying in Korea to be an idol and living healthily and in peace, I will choose the latter without hesitation.
"In my eyes, strength, tenacity, resolution, and determination are the necessary characteristics of a man. Thus, we let him learn martial arts, taught him how to be get through tough times, and develop a hardworking attitude. We let him earn money to learn music and dance to let him become someone who can sustain himself. Since becoming a singer is his dream and his choice, he must work hard for his own dream and make the necessary sacrifices for his decisions.
"Huang Zi Tao has never disappointed us; in making it this far, he has always been the pride of our family! But what has given me pause is – in these three years since his debut, he has gotten all sorts of injuries large and small. Back pains, body pains, leg pains, to the point that during each performance, whether I am physically there or at home, if he does a flip, I will be worried to no end, nervous that his old injuries will only worsen. This is especially true for overseas performances: sometimes the stage is slippery, sometimes it rains; before every performance I will be sure to tell him again that if the stage is wet, if it's raining, if it seems unsafe, to not do the flip. But every time he says he does not want to disappoint everyone, comforting me by saying he will be careful. But in the end, I can only see through Weibo that he has injured himself again, it really hurts me! I can't take care of him, sometimes I can't contact him nor go to the performance, this burning pain is hard to describe with words, sitting at home clutching onto my phone to wait for any news, other people will never know.
"In the eyes of others, I should be very happy, a full family, my son is an idol, but how will they know the number of sleepless nights spent worrying about my son? This time I will do whatever it takes to bring Zi Tao back to heal his wounds. The night I went to Korea, the company talked to me about Zi Tao's future, saying that as promised from the start they would make a special team to enhance his performances, of course I was happy to hear all these details. The company said that after Zi Tao signed the agreement, they would announce it along with other members'. However, with only this final step missing, and myself in Korea, the company revealed the future plans for the other members…I wanted to say so much that I drew a blank.
"Zi Tao did not get the company's support, instead only returned with an injured body, in that case, what was all our perseverance from the start worth? I decided to bring Zi Tao home for treatment, only to get noticed that we missed the ideal treatment period. If these injuries do not properly heal it will be detrimental to his physical condition, just like how the last straw broke the camel's back, this made me decide to bring him back. To parents, there is nothing more important than a child's wellbeing. Compared to flowers, applause, and stage lights, his health and wellbeing will always be first on our hearts! Finally, we want to thank and apologize the company and his members: we want to thank the company for these three years of taking care of Zi Tao and his members' support and care! At the same time I also want to apologize to all the fans of Huang Zi Tao and EXO, i know that my decision will hurt you all deeply but please understand this is what a father must do, I'm sorry!"
The letter has trended on Weibo and various Chinese media outlets, leaving fans to assume that a lawsuit will be brewing between Tao and SM Entertainment. If true, this will be the third Chinese EXO lawsuit following the legal conflicts of Kris and Luhan.
As the account "Zi Tao's father" was only recently created to make this post, fans have questioned its legitimacy. However, upon further look, it appears that Tao has followed the account on his personal Weibo, giving credence to the letter.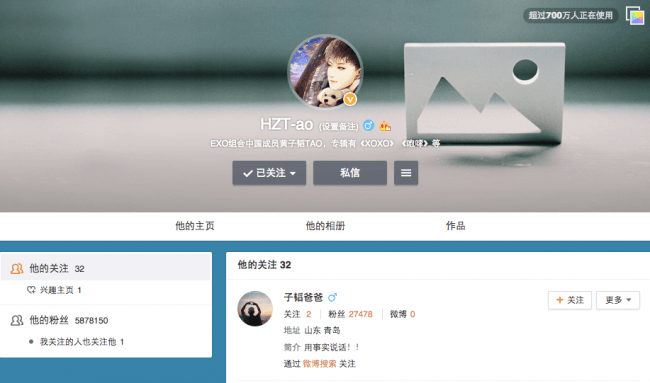 Source: Sina
Share This Post