TWICE Nayeon under FIRE for recent Instagram post regarding Taeyeon
TWICE member Nayeon is under fire for recent Instagram post regarding Girls' Generation Taeyeon
Instagram and other SNS accounts are used for idols not only to freely express themselves but also to connect with their fans. But due to the fact that it is available for the public to see, idols must be careful not to offend anyone and to watch their posts with caution. Could there be another female idol who is under fire for the right reasons?
Nayeon posted on her Instagram to claim that she was a fan of Taeyeon by posting a screenshot of her cellphone listening to Taeyeon's recently released digital single. However, Nayeon was streaming from SoundCloud file which has been uploaded illegally by others instead of streaming from sites such as Melon.
Originally posted on Pann, TWICE Nayeon is under fire for recent Instagram post that mentioned Girls' Generation Taeyeon.
Titled "Controversy Regarding Nayeon's Instagram Post Mentioning Taeyeon," here is the direct translation of the post and comments below.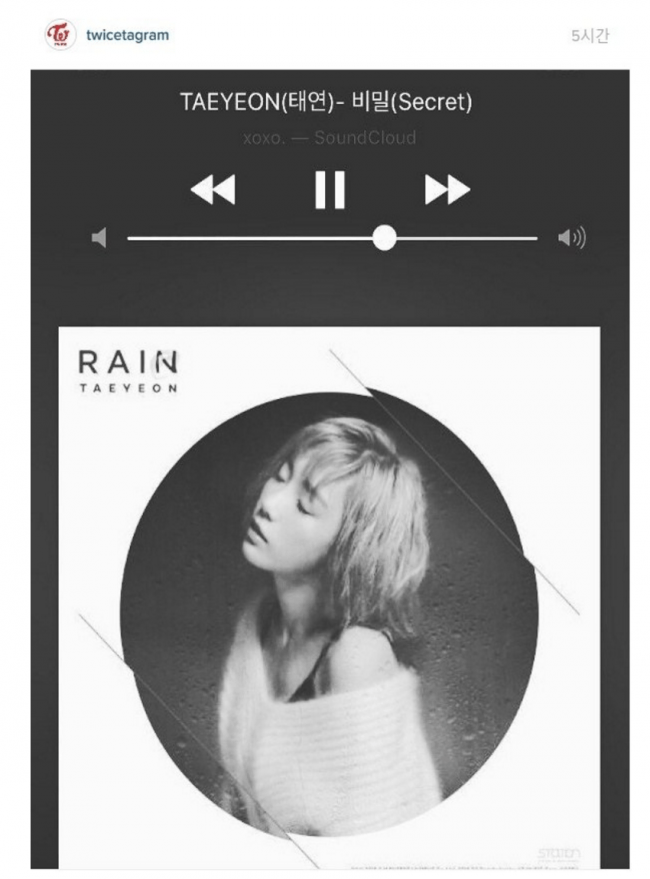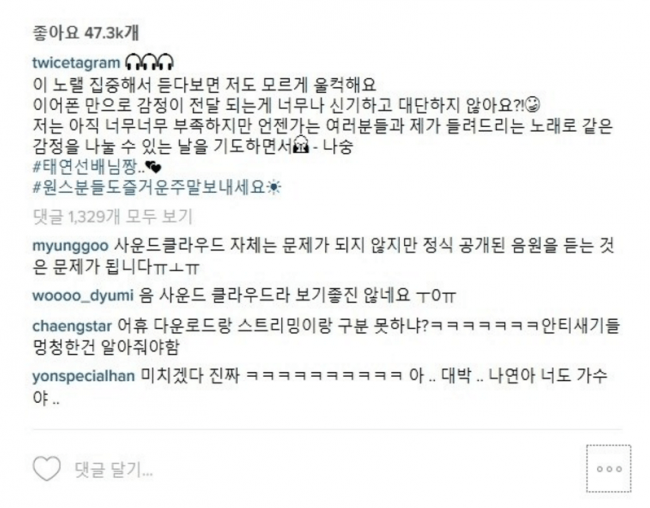 Translation: 
Naeyon: "I really get emotional whenever I concentrate to this song. Isn't it amazing how emotions can be sent through earphones? I am still lacking a lot as an artist but I pray that I can do the same with my own songs. -Nayeon #TaeyeonSeniorIsTheBest.. #ONCEhaveAGoodWeekend."
Comment: "It isn't a problem to use SoundCloud but it becomes a problem to listen to a song there if it was released as a digital album and uploaded illegally on SoundCloud."
"It isn't good to see that she is listening from SoundCLoud."
"Whew… Can you tell the difference between downloaded and streaming? hahahahaah Anti-fans must know that they are dumb"
"This is crazy really hahahaahahahahah Ah… Daebak… Nayeon, your an artist too…"

---
NETIZEN REACTIONS
Koreaboo has collected reactions from Netizens who commented on the original article from our Korean source. The below comments are the most popular comments at the time of this article being published.
---
[ +127 / -16] A singer is streaming something that is uploaded illegally hahahaha
[ +119 / -7] It isn't illegal to listen from SoundCloud but it is wrong to listen to something uploaded illegally. Stop trying to defend her.
[ +111 / -6] To be precise, it is illegal for the person who uploaded it on SoundCloud but it is also wrong for people to listen to something that was uploaded illegally for free
Source: Pann
Share This Post