15+ Reasons Why Momo And Heechul Are Perfect For Each Other
OTP alert ❤️
Super Junior's Heechul and TWICE's Momo are confirmed to be dating! These two ultra-popular idols have been on the public's radar ever since their first interaction on television three years ago.
Now that they are a confirmed couple, it's clear to see why they're absolutely perfect for each other. Below are just a few reasons why we think so!
1. Heechul chose Momo as his ideal type
Heechul is the perfect example of a guy who somehow ended up with his ultimate crush. He revealed in Knowing Bros just how much he liked Momo when TWICE came over.
When he danced to "Cheer Up" later in the show, Momo was quick to agree that he knew the point steps so well that there was nothing she needed to correct.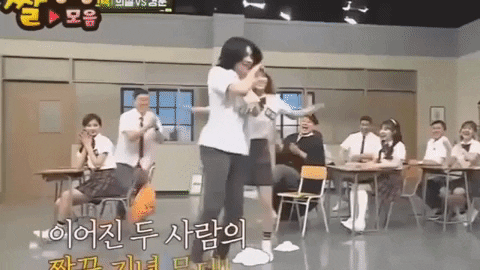 Momo was also the only one in Weekly Idol who could make Heechul's BPM reach over 130 BPM using simple aegyo.
2. Momo thinks highly of Heechul
When asked by Dahyun to pick between Min Kyunghoon and Heechul as her ideal type, Momo picked the latter right away. She cited his caring personality as the reason why she liked him more.
To me, since our debut, Heechul has taken care of me.

– Momo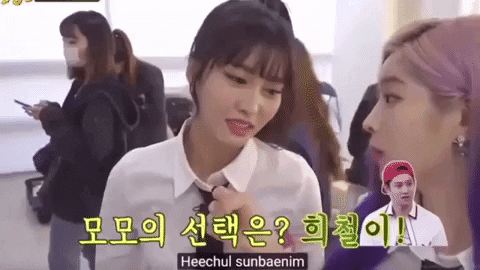 3. Heechul always gets giddy when Momo comes on his shows
No matter how many time's they've seen each other throughout the years, Heechul never loses his excitement when seeing that Momo is a guest in one of his shows.
There is nothing more precious than witnessing a normally confident and energetic guy blush around his celebrity crush.
4. Momo got pouty when Heechul changed his ideal type
When Heechul picked other female celebrities as his ideal type in Knowing Bros, Momo couldn't help but show how less-than-enthused she was.
Stop complaining about Momo & Heechul's age gap, instead watch this clip of Momo being all pouty because he "switched" his Ideal type to another female celeb 🙁 pls she's so cute :(( pic.twitter.com/KuVHIXymuT

— tal ¨̮ (@lavienseok) January 2, 2020
Despite the public knowing Heechul liked Momo first, further interactions prove that their relationship isn't one-sided, and Momo was attracted to Heechul as well.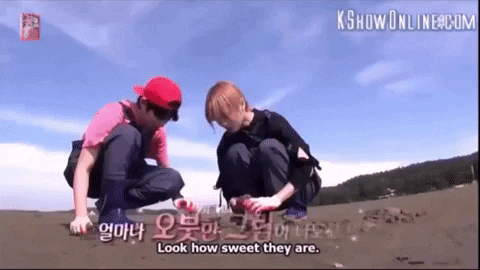 5. Momo's ideal type is someone who is slim and likes Jokbal

Momo is a clear fan of the Korean dish Jokbal (pig trotters cooked with spices and soy sauce).
She likes it so much that it's practically a requirement for her ideal type to like it as well.
I like Jokbal [so I want my future boyfriend to eat it well].

– Momo
Momo's ideal type. Heechul is gonna get sick of jokbal #MOMO #Momo #Heechul #Twice #TWICE #SuperJunior pic.twitter.com/nOllq441fy

— twiceyhappy (@twiceyhappy) January 2, 2020
She's not particularly fond of chubby guys either, so the host summarized her ideal type as a guy who "has to keep eating Jokbal and has to keep exercising to lose weight."
While it is unclear if Heechul likes it just as much as she does, he is known to have a great appetite while keeping his slim figure.
6. Heechul is a known protector of female idols
Fans all agree that Heechul is a sweet guy who takes care of the people around him.
heechul is a guy that i've really grown to love and appreciate since i've gotten to know k-pop and i trust him to take care of momoring🥺
i love you both so much😔❤️ pic.twitter.com/2pl9sWu5ih

— ᴅᴅᴀʟɢɪ 💋. #HappySANADay (@jihyoilysm) January 2, 2020
He even adopted Sulli's cat without making it known to the world, keeping his good deed private.
Anyway despite the age difference, Heechul has always been this beacon of light for ggs everywhere and his intentions are pure. I'll never forget him taking care of Sulli's cat when she passed. He's just that kind of guy and is perfect for Momo.

— RV (@rvlovestwice) January 2, 2020
More importantly, Heechul has the nickname "Kim Condom" for being a male celebrity whom females can freely and comfortably be themselves around.
heechul is very protective of his female celebrity friends & got the nickname "kim condom" because female celebs consider him very safe & he would delete his male friend's contact number if they call him to ask him to set them up with his female friends. pic.twitter.com/JGNYotLqNT

— ᴋɪᴍ ʜᴇᴇᴍɪ (@heechullieoppa) December 31, 2019
7. Heechul is a total comedian and Momo loves it
When TWICE guested in the KBS show We Like Zines, Heechul attempted to open wine for her using an advanced wine opener.
Momo couldn't help but laugh when he failed to do so the first and succeeding times.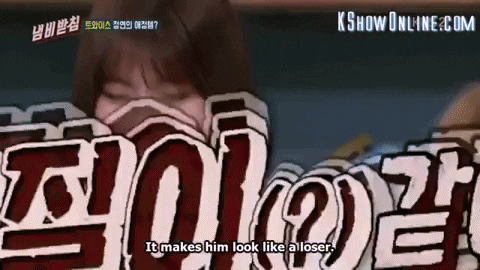 Fans agree that his humor is one of Heechul's stand-out traits.
Honestly people are saying how heechul also comes in the "lucky bastards" list along with Kang Daniel (😂) which is true but I feel like momo is also soooooo freakin' lucky to get the most sweet, talented and entertaining boyfriend like I'm so-#HeechulxMomo pic.twitter.com/yKOfMkNHty

— HAPPY "MEW" YEAR (@KookieLovegood) January 2, 2020
8. Their personalities are similar
While Heechul and Momo are extroverts and introverts respectively, they have a lot more in common than people may initially think.
They're both very playful and fun, and fans could see this right away.
i'LL NEVER SHUT UP ABOUT THIS VIDEO WHERE YOU CAN SEE JIHYO AND MOMO'S PERSONALITY FROM THEIR BOYFRIENDS
JIHYO/DANIEL: smooth, always the first to feel disgusted
MOMO/HEECHUL: i'LL MAKE YOU MINE ALREADY#MOMOXHEECHUL#WeLoveYouMomo pic.twitter.com/v3eixYA6px

— alyssa | support momo and heechul! (@jihyopuff9) January 2, 2020
Moreover, both stars are clearly comfortable around each other. An energetic guy and steady girl—they just match!
9. They're both gorgeous AF
Need we say more? Their visuals alone make them top stars individually!
Put them in the same frame, however, and it's easy to see why their chemistry is explosive. They even manage to look stunning through mobile screens.
10. They're both talented AF
Momo is one of K-Pop's best dancers…
…and Heechul is a renowned comedian and host, aside from being a successful idol.
They're talented to the extreme, making them an ultimate power couple in the K-Pop scene.
11. Heechul is a Good Guy™
Fans agree that if anyone deserves Momo, it's Heechul! He may be thirteen years older, but he's proven himself throughout his career to be one of the kindest and most considerate celebrities in Korea.
He always makes sure to offer a blanket to female co-stars to help cover their legs or shoulders, acting as a protection from the camera or weather.
heechul gave gfriend's sowon a blanket to cover her legs on "lipstick prince", he also does this to other female guests on other shows, esp on knowing brothers where guests have to wear skirts. pic.twitter.com/xeq629hOtW

— ᴋɪᴍ ʜᴇᴇᴍɪ (@heechullieoppa) December 31, 2019
Heechul goes above and beyond each time, even offering his own shoes to a co-star despite having to step on the hot pavement as a result.
12. Momo wants someone who can express himself well
A confession Momo made to her future boyfriend was that she looks forward to eating good food together. She also highlighted how important it is that he is expressive since she herself is shy.
Because I cannot express myself well, my boyfriend has to express himself a lot.

– Momo
So this is a confession from #Momo to her future boyfriend aka #Heechul now 😏

-"I eat alot, so let eat lots of tasty food together and I'll look for digestive medicine for you."

A caring girlfriend, Momo Hirai ❤️ pic.twitter.com/QfMfiRRr9p

— chrizTY÷ ᵐᶦⁿᵃʸᵉᵒⁿ (@minayeonkiss) January 2, 2020
Heechul, without a doubt, is one of the most "out there" celebrities in Korea, matching her ideal type well.
13. Momo makes Heechul shy
This exuberant and easily excitable man-boy can easily become a shy ball of nerves just by catching a glimpse of Momo's face.
He can barely stand next to her without worrying if he looks alright.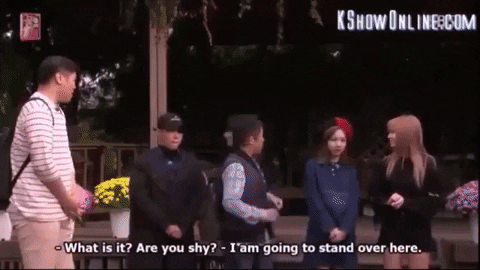 14. Heechul is a total TWICE fanboy
Heechul admitted in Amazing Saturday that he only went to three concerts in five years: Kyuhyun's solo concert, TWICE's first concert, and TWICE's second concert.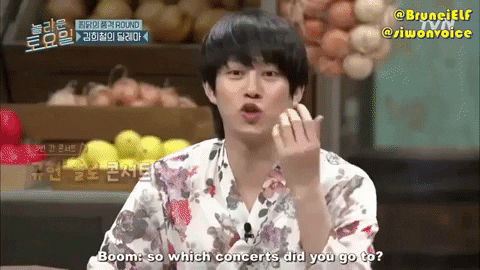 If he had to choose between a TWICE concert and a fromis_9 one, he'd pick the former because "even mentor has hobbies".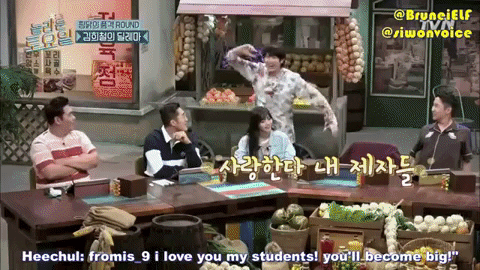 He's 100% a TWICE fanboy!
15. Momo starred in Heechul's very own music video
Even in a music video, Heechul is totally smitten with Momo.
His chart-topping song "Sweet Dream" featured Momo as the love interest of two friends, Heechul and Kyunghoon who became close through Knowing Bros.
16. And finally, even JYP is supportive
Unlike many company CEO's, Park Jinyoung supports his artists dating.
They can bring their boyfriends and we can eat together.

– Park Jinyoung
heechul i think i think it's about time to get your free meal with JYPpic.twitter.com/PH33wR2qz3

— alec (@nayeonned) January 2, 2020
As both SJ Label and JYP Entertainment confirmed the dating news, it is easy to say that JYP himself approves of Heechul.
Showing off their close relationship, Park Jinyoung teased Heechul in tvN's Life Bar when he changed his ideal type from Momo to other celebrities.
Like a true father-in-law, he's already protective of Momo.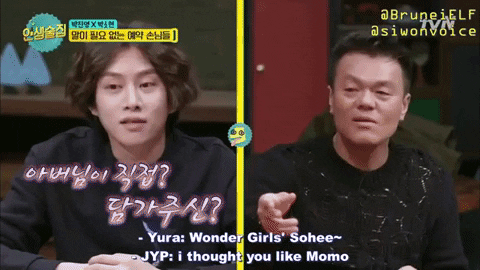 Without further ado, congratulations, Heechul and Momo!
Share This Post