Brave Girls start crowdfunding project for comeback album
Brave Girls are on the road to return with brand new music.
A new album will be released through a crowd funding campaign. Within just a few days since its creation on September 27th, the girls have already achieved their goal, and more, with the campaign set to end on November 30th.
Artists such as Tahiti, HIGH4, Stellar, and LABOUM have had crowdfunded music projects. Earlier this year, Tahiti became the third female idol group to produce their upcoming single through the platform. In June, HIGH4 raised expectations after achieving more than 400% of their goal. LABOUM started their crowdfunding campaign for the production, and released their music video "Sugar Sugar." Stellar launched their campaign earlier this year to cover production costs ahead of their comeback promotions for the title track, "Sting."
In September, Brave Girls released single their single Yoo Hoo. After a three-year hiatus, Brave Entertainment released their long awaited single in February titled Deepened, with a 5-member to 7-member girl group. The group also took on a "muscle queen" concept referring to healthy, sexy, strong, and powerful women.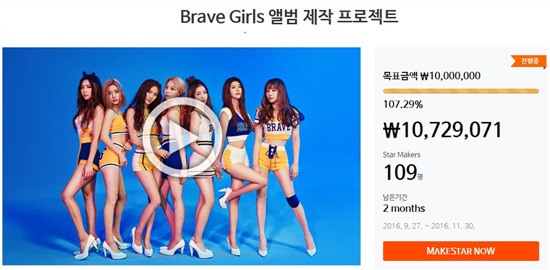 Source: Dispatch
Share This Post