Clara Lee grabs #2 spot for "World's 100 Most Beautiful 2014"
Fashion icon and actress Clara Lee has been honored as #2 on "World's 100 Most Beautiful 2014" as voted by Mode Lifestyle Magazine. Clara's ranking has garnered attention as she beats out other beautiful ladies, including Jessica Alba, Scarlett Johansson, and Angelina Jolie, on the list.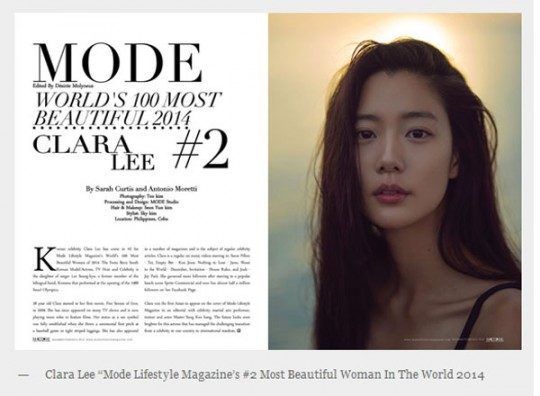 The "World's 100 Most Beautiful 2014" listing was released on October 25th with the votes from the magazine's readers. The #1 to #10 spot as selected are as follows: Tania Marie Caringi, Clara Lee, Cristina Maria Saracut, Jessica Alba, Alessandra Ambrosio, Scarlett Johansson, Beyoncé, Candice Swanepoel, Adriana Lima, and Angelina Jolie.
According to Mode, "Korea's singer, actress, and model Clara Lee's bright and attractive look garnered our magazine's attention to select our first Asian star as our cover model."
With this honor, Clara expressed, "I appreciate that I have received compliments not only in Korea but also overseas. With this, I would like to thank my local fans once more. I will always do my best and be a positive influence in our society as well."
Recently, Clara is featuring in Fashion King Korea Season 2 with designer Choi Beom Seok. She has been selected as one of the finalist for the show.
Source: Ten Asia
Share This Post