JYPE Announces Consequences For Anyone Caught Slandering Jun.K After Injury
JYP Entertainment has announced that they will take legal action against commenters who have been making malicious comments regarding Jun.K's incident and injury on February 26.

After the news of Jun.K's injury became known to the public, there has been an outpour of support and wishes for his speedy recovery. There have, however, also been many malicious comments being posted about the situation. JYP Entertainment decided they will not tolerate this anymore. The company released their full statement and it reads as follows:
"Hello, this is JYP Entertainment.

We would like to announce that we will be taking strong legal action regarding online community posts that degrade the honor and character of Jun.K and the other 2PM members. This includes falsities, smear campaigns, and malicious comments and rumors that may be related to Jun.K's injury that he suffered on February 26.

We have decided that we can not simply sit back and overlook the amount of malicious posts and comments that create pain for both the fans, the artist, and their families. This is compounded even more as Jun.K has already suffered an injury. In order to protect our artists' rights and mental health, we will be taking strong legal action.

In addition, we will take appropriate legal action in the future regarding acts similar to the ones as listed above."

— JYP Entertainment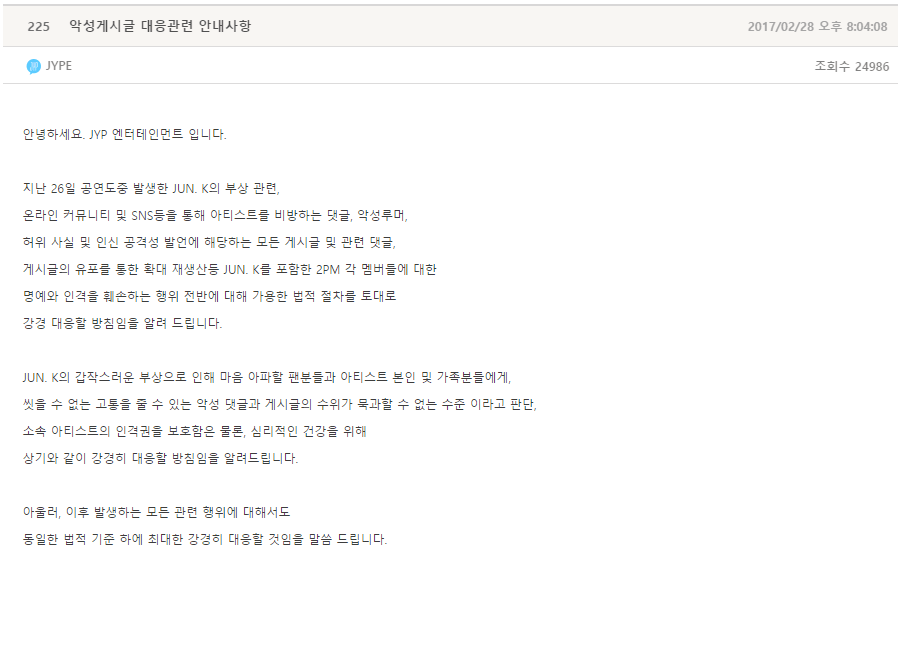 Jun.K was injured at 2PM's concert after he fell off a moving platform. He was originally thought to have injured his neck, but after examinations, it was revealed he fractured his elbow and finger, and also suffered from chest and knee pains. 2PM canceled the remainder of their concert that night.
Source: Dispatch
Share This Post