L.Joe Shares His Thoughts For The First Time Since Leaving TEEN TOP
L.Joe explains his reasoning to why he deleted all of the pictures from his Instagram.
L.Joe is currently in the process of filing for contract termination with T.O.P Media with the reason that the agency failed to provide proper management, resulting in the limiting of his personal activities. He also removed TEEN TOP from his username and deleted all of his photos from his Instagram. T.O.P Media also revealed that L.Joe will not be working with the group anymore.
L.Joe has made his first public statement since the incident, posting in TEEN TOP's fancafe. His message reads:
"It's been a while.. First off, the reason I deleted the photos off my Instagram was not because I wanted to remove all the memories for my fans. It's because it is difficult to look at the pictures of the times I can not return to anymore. Please cherish the memories, not forget them.. I will definitely cherish them too.. I am truly sorry I haven't been able to communicate with my fans through SNS and ended up making the fans feel frustrated.. My frustrated heart and.. I wasn't able to express the situation.. I am thankful to those who worried about me, and I'm truly sorry for making you worry about me. The weather has suddenly gotten colder so Angels, please be careful not to catch a cold.

– L.Joe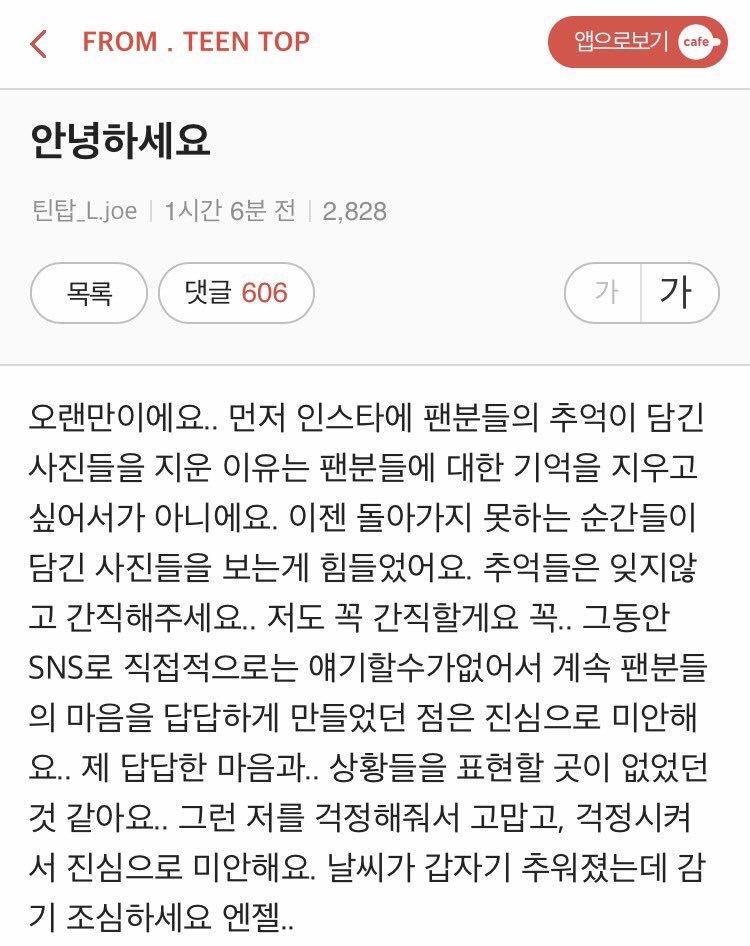 Source: MBN
Share This Post