Luhan, EXO's Lay, f(x)'s Victoria, and K-drama "You Who Came From The Stars" tops Baidu's charts
China's search engine Baidu has revealed that Luhan, EXO's Lay, and f(x)'s Victoria were named in their "2014 Top 10 Most Popular Celebrities" list, while SBS drama You Who Came From The Stars topped the "2014 Top 10 Most Popular Films" list!
There were 19 people on the judging panel, including experienced media experts, who cover stories encompassing entertainment, technology, and more.
Luhan came in first, becoming China's popularity king of 2014, whereas Lay came in 5th and Victoria came in 7th.
After ceasing his activities with EXO, Luhan has been promoting himself in China, making appearances at a range of events. While his Chinese movie Miss Granny has just been released in theaters on January 8th, Luhan also performed on concert shows and received his individual award. In the latest news, Luhan was revealed to be a potential challenger to appear on China's I Am A Singer, with Wu Yifan (Kris). Luhan will soon have his second mediation session with SM Entertainment on January 16th, after he filed a lawsuit against the agency.
Lay has also been relatively active in the Chinese entertainment industry. Besides appearing on a Chinese variety show The Generation Show solely with Xiumin, Lay also had the chance for an individual interview, gracing the cover of a Chinese magazine. Most recently, Lay premiered his self-composed track "I'm Coming" on a Chinese year-end show.
On the other hand, f(x)'s Chinese member Victoria is gearing up for the release of her Chinese drama Beautiful Secret (美丽的秘密), acting alongside Peter Ho. Victoria is also paired up with Cha Tae Hyun for the 2015 movie My Sassy Girl 2, which is co-produced by China and South Korea.
Meanwhile, while these artists from SM Entertainment have shown great achievements on the ranking list, SM Entertainment and Baidu had previously bridged a strategic partnership in May 2014, indicating closer relationships between the two.
SBS hit drama You Who Came From The Stars, starring Kim Soo Hyun and Jun Ji Hyun, which has won numerous awards was also named the 2nd best film of 2014. The drama was the only South Korean production on the Top 10 list, defeating Chinese film Step By Step Surprise (步步惊情), movies Interstellar and Transformers 4.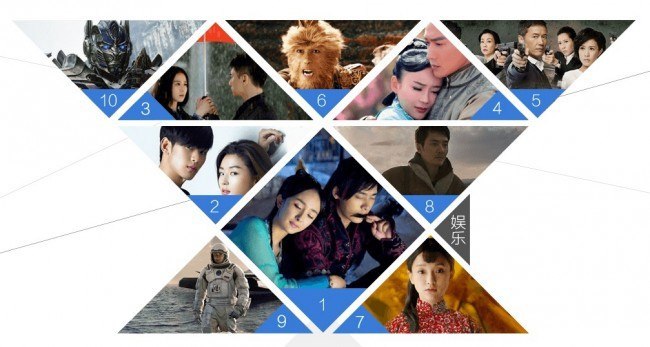 Source: Baidu
Share This Post