Hwasa's International Schedules Spark Speculations About MAMAMOO's Upcoming Activities
MAMAMOO is coming back for you!
Since making their debut in 2014, MAMAMOO has never failed to deliver back-to-back hits. While most fandoms would kill for such consistently good quality comebacks, one thing that MooMoos have been starved for is a MAMAMOO world tour. But this wait might come to an end soon!
After Hwasa made her fashion show debut as a guest at Valentino's 'The Beginning' Fall-Winter 2022/2023 Haute Couture Collection Show, fans were excited about the positive attention she received. While her pictures sitting front row with the likes of Anne Hathaway, Anna Wintour, and Florence Pugh went viral, MooMoos became more eager to see MAMAMOO on more international platforms.
And this eagerness soon turned into speculation for a group world tour after Hwasa's red carpet interview at the HallyuPOP Fest in London the very following day. After the MC asked if MAMAMOO could come to London soon as a group, Hwasa swiftly replied, "Of course."
I BELIEVE MAMAMOO WORLD TOUR IS VERY NEAR😜#HwasaInLondon #HallyuPopFest  #HallyuPopFest2022 pic.twitter.com/kxSO1sqYpJ

— chanellé (@wrixlesolar) July 9, 2022
The Maria singer performed at the Wembley arena for the event and received overwhelming cheers from a crowd of more than 10 thousand people. Hwasa's confident reply, paired with the reception she got at the concert, has made fans more optimistic about a group world tour soon.
Hwasa said she'll come back to London aka confirmed Mamamoo World Tour 🤭

— rolls⁷❖ saw HWASA Live (@egogobebe) July 10, 2022
i really hope mamamoo no longer has doubts on how much they are loved internationally because they are so loved everywhere. with that being said, world tour. now.

— evie/eve ❖ mamamထ (@mmeongcheongi) July 9, 2022
Earlier this year, MAMAMOO made a lot of noise while performing at the KPop Flex concert in Germany. Ever since then, MooMoos have been hoping that the group will notice their international popularity and finally goes on a much-deserved world tour together.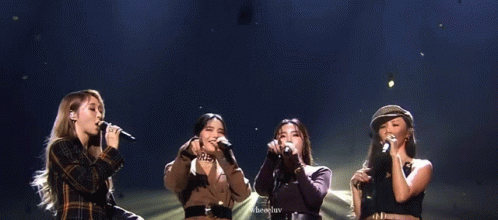 Though the 4 members are currently busy with individual schedules, last month, their label RBW Entertainment announced (through an article in Sports Kyunghang) that the group is preparing for a comeback and a concert later this year.
Read More: Speaking of world tours, here's Hwasa spilling the beans on her dream collaborations!
MAMAMOO's Hwasa Spills On The Artists She Dreams Of Collaborating With In The Future
Share This Post