NU'EST Minhyun's School Teacher Reveals The Truth About The Bicycle Theft Story
Minhyun's middle school teacher and childhood friend have come forward to defend the Produce 101 contestant and NU'EST member regarding the alleged theft of a bicycle.
NU'EST's Minhyun once revealed in a previous radio broadcast that he had stolen a bike during middle school, but at the time, his story was never reported on and it didn't become an issue.
With the controversies surrounding multiple Produce 101 contestants and their troublesome pasts (including bullying and sexual harassment), Minhyun's bicycle theft was not left uninvestigated.
Early this month, a post titled "The idol who stole a bicycle in middle school" was uploaded on an online community portal. It soon became viral and was reported on by multiple news sources.
"I think it was in my first year of middle school, my friends and I were immature and so we stole a bike and sold it to an old junk yard. At the time, we found it fun and exciting. One semester passed by and I completely forgot about it, but in the second semester, a policeman came into our class looking for us. So we got into a lot of trouble from our teacher."

— NU'EST's Minhyun
Many were surprised by his admission on live radio broadcast and criticized him for being so confident in telling such a story. Fans were especially upset given that he is an idol who is meant to promote exemplary behavior.
Minhyun's middle school teacher, however, recently took to Facebook to defend Minhyun and explain that the story he told on the radio broadcast never really happened and that he may have overexaggerated for entertainment purposes.
"I am Hwang Minhyun's 9th-grade homeroom teacher, and I guided Hwang Minhyun in 7th and 8th grade as well. Currently, I am still working at the same school.

There have been several news reports on Hwang Minhyun's bicycle theft story.
To summarize, the story Hwang Minhyun told on the radio was exaggerated. I believe he told that story because radio programs require some exaggeration on impactful stories that highlight a new experience. I watched him grow for 3 years in middle school, but from what I know, that never happened. After having watched him for 3 years and staying with him for 1 year as a homeroom teacher, he spent his middle school days diligently and beautifully.

I'm writing this to share the truth to all those supporting and believing in Hwang Minhyun, as he is suffering emotionally from the spread of false information.

There are probably people who think I'm writing this because Hwang Minhyun contacted me somehow. But, after he graduated middle school, I haven't been in touch with him until now for various reasons such as busy schedules and changed phone numbers. I'm only watching my student live his life through the internet and broadcast television.

I'd like to remind all those reading this post. Hwang Minhyun never stole anything while he was in middle school, he enjoyed his middle school life as a regular student. Anyone who attended school with him at the time or worked at the school will agree with this fact."

—  Sungyul Kim, Minhyun's middle school teacher
A childhood friend of Minhyun's came forward in an online community and corroborated the middle school teacher's account by revealing his version of what happened, showing that the story had been exaggerated for entertainment purposes. In the post, he uploaded selfies he had taken with Minhyun and his other schoolmates to prove that he was indeed Minhyun's close friend.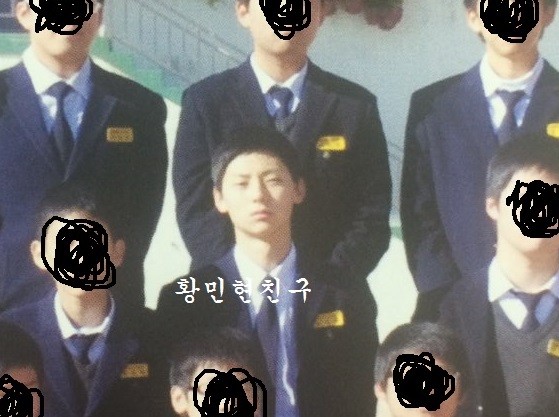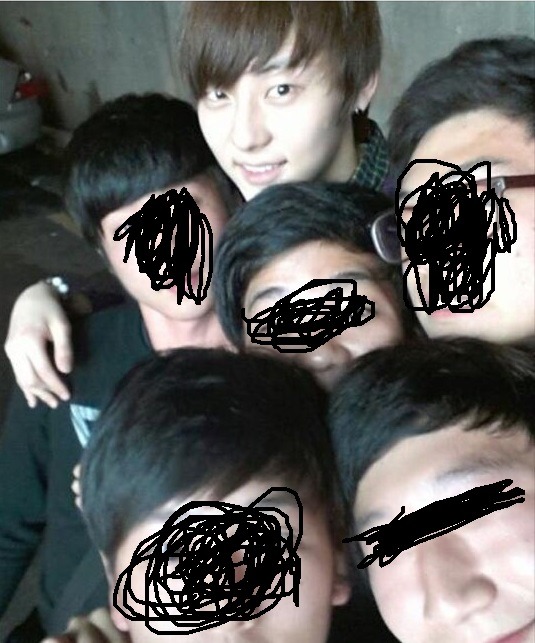 According to Minhyun's friend, on the way home from school, the two of them saw a rusty old bike leaning against a pile of trash bags on the street. Out of curiosity, they tried to ride it but noticed that the tires were flat and the chain was broken, and so they decided to take it to the junkyard to dispose of it. The owner of the junkyard gave them ₩3,000 KRW (approximately $2.64 USD) with which they treated themselves to ddeokbokki (Korean spicy rice cake).
Source: DC Inside and Wikitree
Share This Post