Korean Police Save Bride and Groom Who Nearly Missed Their Wedding
Like a scene from any major film, the police arrived to the rescue of a bride and a groom stuck in traffic while on their way to their actual wedding ceremony. 
According to the Daegu International Police, the Daegu International Marathon was held on the same day around 10:10 in the morning. It was known that some roads around Daegu were going to be closed to accommodate the public event. However, the couple were unaware of the information and had to request the police for assistance.
The groom was stuck in traffic as they tried to make their way to the ceremony scheduled for 11 o'clock that morning. The bride who was dressed in her wedding garb was described to worried and tearful for fear that she won't make it to her own wedding.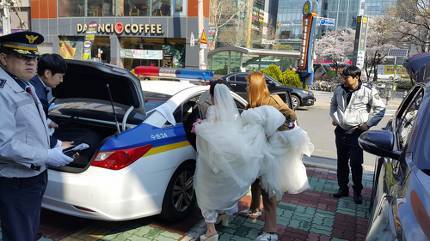 The police, however, instantly decided to drive the couple and their family in their patrol cars so they could all make it to the ceremony. It was reported that they all made it to the venue in less than ten minutes.
A job well done for the Daegu Police!
Source: Dispatch
Share This Post