[★TRENDING] Sulli hints at upcoming marriage with engagement ring?
New photos of Sulli has surfaced online revealing her hanging out at in Seoul, but what caught Netizens eyes is the ring on her finger.
The photos are spreading like wildfire on SNS and various online communities, where a thread was posted titled "Photos from Sulli's private Instagram".
In one photo, Sulli is seen in red shorts and white shirt stretching as she looks up with one arm resting on her hips.
However, in a second photo, Sulli is seen with minimal makeup on as she gives a beautiful smile at the camera, with a shiny ring on her ring finger. In the third photo in which she wears a flower necklace around her neck, she is seen showing off the ring to another person.
Many netizens speculate that this is the reason why Sulli has not been active in f(x) as she devoted herself to her known boyfriend Choiza of Dynamic Duo.
Just on June 25th, a media portal broke the news that Sulli would be leaving the girl group and focus on her acting career instead as she was still under contract with her agency. However, SM Entertainment released an official statement saying, "Nothing's been decided on the matter of her leaving the group. Her future activity as well as f(x)'s  will need to be very careful."
Currently, f(x) is said to be preparing for a comeback scheduled for September.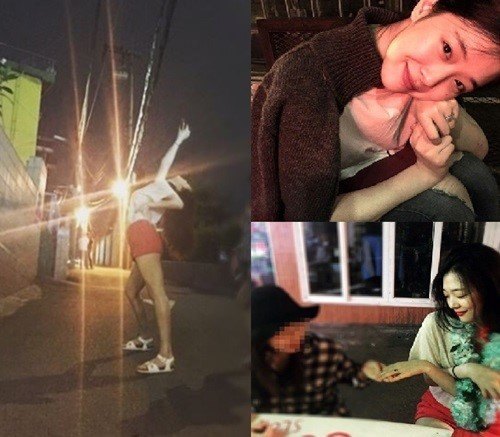 Netizens reacted to the story comparing her to Jessica and criticizing her and Choiza:
[+5,214 / -385] She's on the same level as Jessica
[+4,529 / -103] Oh look it's a wedding ring with Choiza
[+3,511 / -95] She's asking for criticism
[+3,006 / -84] The rings for her and Choiza ㅋ
Source: Daily Sports and MBN
Share This Post