Trainee In T.O.P Marijuana Scandal Shows Her Face For The First Time
Han Seo Hee has revealed her face in public for the first time since the marijuana scandal with BIGBANG's T.O.P.
[★EXCLUSIVE] The Full Story Behind T.O.P's Drug Scandal, And The Mysterious Trainee Woman
Korean media source Star News revealed a video of Han Seo Hee attending her trial for appeal on August 23.
After the trial, they approached her and asked for a short interview, to which she begrudgingly obliged.
The reporter asked her if there was anything that was misreported, or if she wanted to fact check the information about the case.
Han Seo Hee replied that she never offered the marijuana first, nor was the e-cigarette in her possession.
"The person who first offered it was him [T.O.P]. I never forced him or offered it. The e-cigarette was also never mine. He took out what looked like an e-cigarette from his pocket, and I later realized it was an e-cigarette with marijuana ingredients."

— Han Seo Hee
[★BREAKING] Han Seo Hee claims T.O.P offered her marijuana first
She also explained that she was deeply reflecting on her actions and that she was going to stay strong throughout the ordeal.
"There are a lot of parts that are falsely reported, and I can explain everything, but people who want to believe me will believe me, while others won't.

I think it's better for me to just endure all of this. The crime I've committed is very obvious, and I'm deeply reflecting."

— Han Seo Hee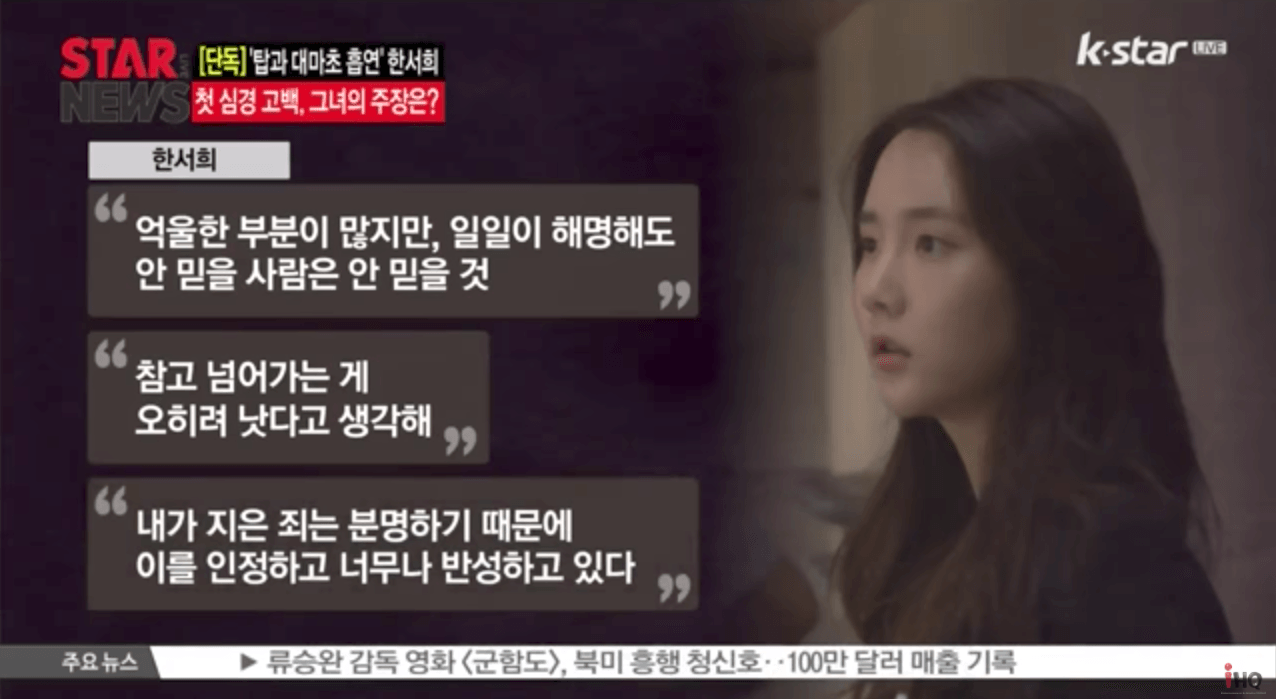 The reporter ended the interview by asking her if she had plans for the future.
"I'm currently focusing on my trial, so I don't have any specific plans, but after the trial, I'll be deciding on my future path."

— Han Seo Hee
Watch the full video report below.
Share This Post