"Unpretty Rapstar 2" Truedy graduation photos catch netizens by surprise
Unpretty Rapstar 2 contender Truedy has received a lot of heat from viewers from both at home and internationally partially due to her looks on the competition.
Since the show's premiere, Truedy's looks has separated her from the rest of the contestants as she continuously shows off a "black" style causing many to wonder if the female rapper was mixed.
Just recently, a graduation photo of Truedy was posted online, revealing how she looked in the past. With a lighter skin tone and short hair, Truedy assumed a more cute outlook than her current appearance.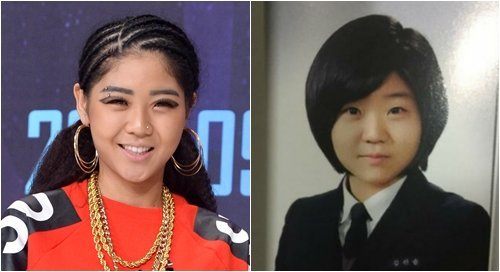 Many were shocked to find that Truedy is in fact full Korean and is not Korean-mixed thus many have shown anger towards and accusing her for appropriating black culture.
It can be noted that in the first episode of Unpretty Rapstar that aired on September 11th, Truedy not only received a lot of attention for her rapping abilities due to sounding very much like Yoon Mi Rae but for her appearance as well.
In a side interview she said, "I want to revive Korean old school hip-hop."
Appearing before the other contestants, her appearance caused them to ask her, "Are you from overseas?" for which Truedy answered, "No, I'm from the Eunpyeong district."
In a tweet to a curious Twitter user, Truedy further confirms that she isn't mixed and simply dresses as she does because she "love(s) black culture and I'm doing what I love." (Read the full statement here).
In a recent diss battle, Gilme also calls out Truedy for appropriating black culture, saying, "Stop your Halloween cosplaying. Your rap isn't anything special, there's no content. Black people? Take that dark make-up off."
---
NETIZEN REACTIONS
Koreaboo has collected reactions from Netizens who commented on the original article from our Korean source. The below comments are the most popular comments at the time of this article being published.
---
[+147, -8] She doesn't want people telling her she looks like Tasha..if I were her I would change that hair and make up
[+112, -8] Hey Black People~~ ! Take off that dark make-up!!!! Gilme did really well but the pity votes Truedy got saved her…what a shame.
[+105, -8] If you really aren't copying Tasha please get rid of the "Black People" in your lyrics
Source: Dispatch and MBN via Naver
Share This Post