Yang Hyun Suk Reveals That His Mom Reads Hate Comments
Yang Hyun Suk admitted that his mother still worries about him even though he's almost 50 years old.
Yang Hyun Suk, JYP, and Yoo Hee Yeol, the three judges of SBS's survival audition program K-Pop Star, appeared as guests on the March 3 broadcast of My Ugly Duckling. During this episode, Yang Hyun Suk opened up about his mother's ongoing concern for him.
"My mom still worries about me. She reads all the news articles about YG on her phone. She also reads all the hate comments."

— Yang Hyun Suk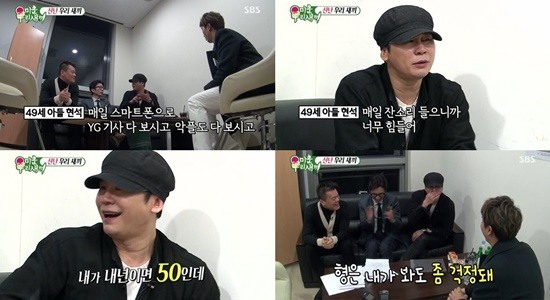 Yang Hyun Suk then confessed that even though he is turning 50 years old next year, his mom still nags him everyday, to which JYP hilariously responded, "I would worry about you, too."
Although Yang Hyun Suk is currently the founder and majority shareholder of one of the top entertainment companies in South Korea, his company has run into some troubles as of late. Most recently, for example, YG Entertainment saw Nam Taehyun leave WINNER and the label altogether, and also lost one of its most popular groups, 2NE1. It seems like Yang Hyun Suk's mother grew concerned for her son after all this news broke out last year.
Yang Hyun Suk, however, continues to maintain a positive image by emphasizing family within his company. Perhaps he is able to give his artists all the love that he has been receiving from his mother!
Source: Dispatch
Share This Post