BIGBANG may have been the coolest seniors at the 2016 SBS Gayo Daejun
Fans not only anticipate their idols' special stages in every year-end ceremony, but they also keep an eye on how they interact with fellow idols as well. 
On December 26th, the industry's top idols and artists gathered for the annual SBS Gayo Daejun. With the broadcast airing all the performances, a number of fan videos opted to focus on senior idols interacting with their juniors instead. These videos have proved to be a big hit so far.
For example, BIGBANG was filmed graciously greeting their fellow juniors and interacted with them as the event progressed. At some point, they even teased fellow label mates BLACKPINK after they found out about their recent appearance on Running Man. 
BIGBANG and BLACKPINK
One video found Taeyang, Daesung and Seungri seemingly teasing BLACKPINK as they returned to their seat. Although they were greeted by their seniors with finger hearts, Jisoo seemed embarrassed by Taeyang's statement.
Based on the video, it looked like that Taeyang teased Jisoo with her recent appearance on Running Man, which involved a slight diss on Daesung. Taeyang even seemed to have explained the incident towards Daesung.
Daesung can be seen laughing as Taeyang talked about the incident while Jisoo apologized profusely. It seemed like the funny misunderstand was cleared there and then as Daesung relayed a finger heart in return.
https://youtu.be/doKhxipLiZM
BIGBANG and BTS
Another incident that caught fans' attention was the moment when Seungri and Daesung sat beside the members of BTS. As the MAMAMOO's stage started, BTS looked a bit nervous when they realized the members of BIGBANG were gonna sit right next to them. BTS greeted their seniors respectfully and were rewarded with the same gesture in response.
https://www.youtube.com/watch?v=z7ehVGq0wYU
The facial expressions from the members BTS caught their fans' interest and were turned into various memes as well.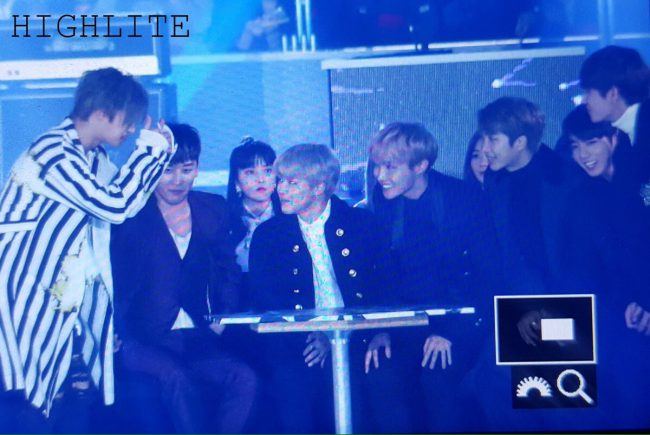 The 2016 SBS Gayo Daejun may be packed with a number of fascinating idol interactions, but the amazing collaboration between artists and live stages caught the most attention.
Relive the year-end ceremony below. 
Share This Post