BTS's Jimin and BLACKPINK's Jennie Wore The Same CHANEL Shirt Again And Served Some Different Vibes
That's a $2700 shirt! 😮🔥
BTS's Jimin and BLACKPINK's Jennie seem to have similar taste in long sleeve white tee's. We've already seen them wear the same $2000 CHANEL shirt with the logo in red. Now it seems the two had their eyes on the same CHANEL Pharrell long sleeve shirt!
Jennie and Jimin have never been scared to push gender norms when it comes to fashion. Jennie is constantly wearing pieces we've seen on other male K-Pop idols and Jimin loves taking women's fashion (especially accessories) and making it his own.
pretty earrings 🥺 pic.twitter.com/MuUdak4Myj

— chloe⁷ 🐾 (@heavenlyjimim) July 17, 2021
After all, fashion shouldn't be dictated by something like gender!
While BTS went on hiatus back in 2019, each of the members shared a mini vlog on how they spent their time. From visiting museums to fishing in the sea, the members each had time for some much needed R&R!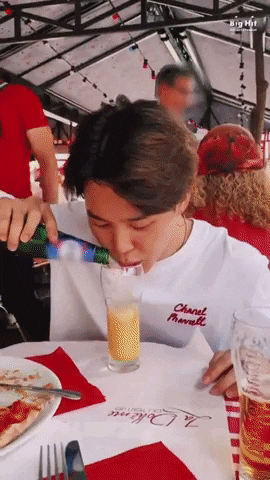 In Jimin's vlog, he showed some clips of his time in Paris where he wore the CHANEL Pharrell long sleeve shirt. Here he is enjoying some ice cream in said shirt!
He shared on Twitter pictures of himself out and about in the streets of Paris in the shirt.
By pairing it with black skinny jeans, black SAINT LAURENT boots and ID Convertible bag, and the black crystal CHANEL necklace, Jimin went for a casual but stylish look that could be dressed up or down!
Then we have Jennie who actually attended Pharrell's CHANEL capsule collection launch event where he gifted her with a pair of shoes from his collection as well. How cool!
Our Miss Jennie Kim wore the CHANEL Pharrell shirt a little differently than Jimin by pairing it with a cute little birdie! Hair up in a loose bun, Jennie chose to wear simple black ADIDAS bike shorts and white sneakers for a much sportier casual look in the shirt.
We also see her sporting the same shirt in BLACKPINK's 3 Year Debut Anniversary video on Youtube! She's dressed the shirt up a bit by having her makeup done, but her hair is simple with a low bun. Either way, Jennie looks stunning as per usual!
We're loving how the two of these fashion icons have styled the same shirt in their own way!
Share This Post