TV show officially apologizes after cruel prank on Hyeri
Mnet's "New Yang Nam Show" is under fire for their inappropriate and cruel prank on Girl's Day's Hyeri, as well as their lack of communication about the prank.
In a recent episode of Mnet's"New Yang Nam Show", Girl's Day's Hyeri was the victim of a prank that involved tricking her into believing she had won the lottery prized at 20 million KRW (approximately $17,636 USD).
In this episode, the staff of the show decided to give all the members of Girl's Day a lottery ticket as a gift, however, the show never included any subtitles or fine print notifying their viewers that the lottery tickets were actually fake.
When Hyeri realized she had won 20 million KRW from the fake lottery ticket, she was immediately overjoyed at the situation and the members' genuine reactions showed that they were never notified of the prank as well. Even the hosts and other members of the show looked like they did not know it was a prank.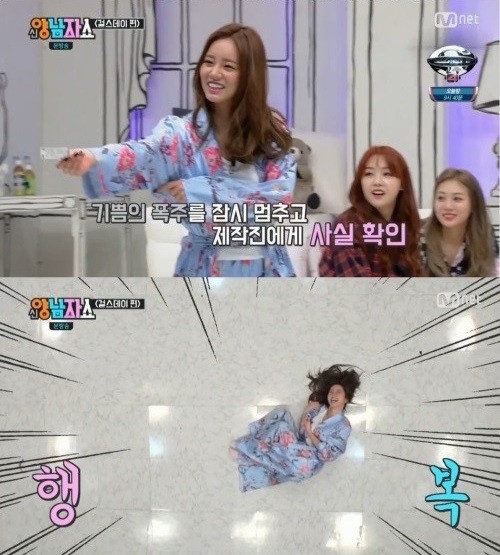 After the episode aired, multiple news sources reported about how Hyeri had won the lottery on broadcast television, and even their agency, Dream T Entertainment, announced that Hyeri had indeed won the lottery.
However, Dream T Entertainment then announced on April 6 that the lottery was indeed a fake ticket, and that Girl's Day had been the victims of a hidden camera prank by the show's staff.
Soon, fans and viewers expressed their confusion with the situation and began criticizing Dream T Entertainment for not being thorough with their research, and for creating a misunderstanding. The show had fooled Girl's Day, the agency and public with this prank.
However, the staff of New Yang Nam Show realized the grave error they had made and took to Naver TV Cast to broadcast an official apology and clarify that it was indeed a prank.
"We apologize to the viewers for causing trouble with Girl's Day's Hyeri's lottery prank. We will be more careful in the future."

— Staff of New Yang Nam Show
Furthermore, an insider at Mnet said the following regarding the controversial lottery prank issue:
"Everyone at Mnet knows that this is not a small problem. We will be holding a meeting to decide how to handle this situation."

— Insider at Mnet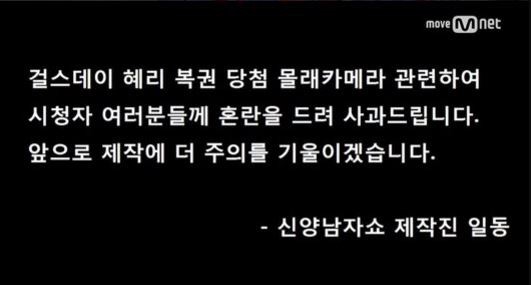 Watch the controversial segment here.
Source: Kyeonggi, Sports Chosun, and Instiz
Share This Post