[★BREAKING] 14-Year-Old Korean Girl Brutally Attacked By 4 Students
‼️WARNING: This article contains graphic photos of the victim and video from the brutal attack on her. 
---
A group of four middle school students brutally beat another student, nearly murdering her in the process.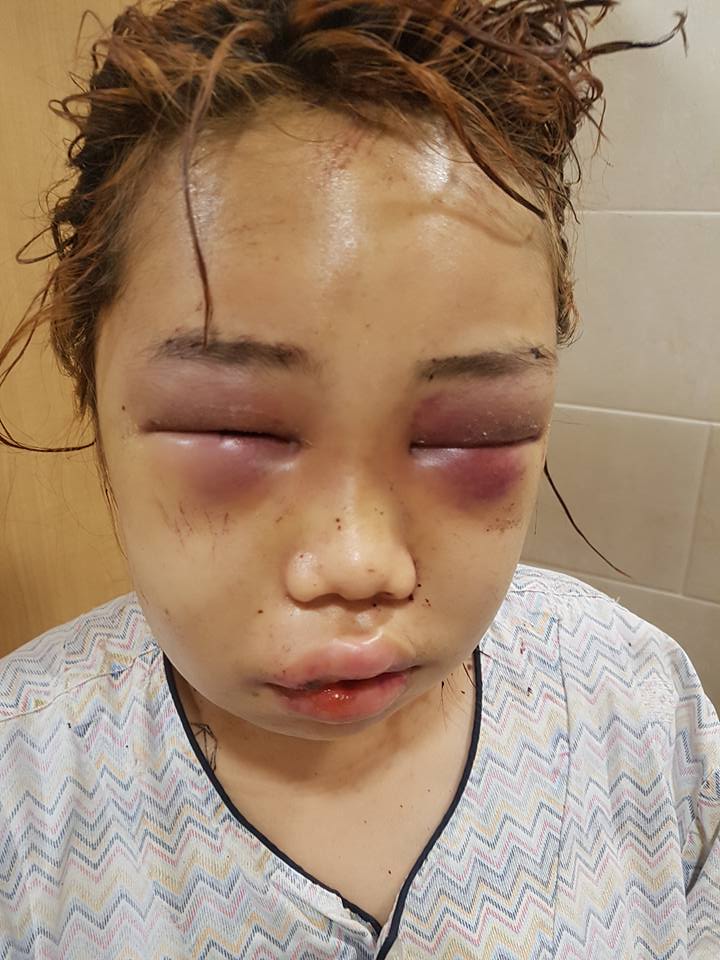 The horrific event was captured fully on camera. It shows the victim being beaten with a chair, a metal pipe, soju bottles and lit cigarettes. 
Three of the attackers are 14 years old, while one is still 13 years old. The victim is also 14 years old.
They attacked her for 1 hour and 30 minutes straight and took photos of her bloody body.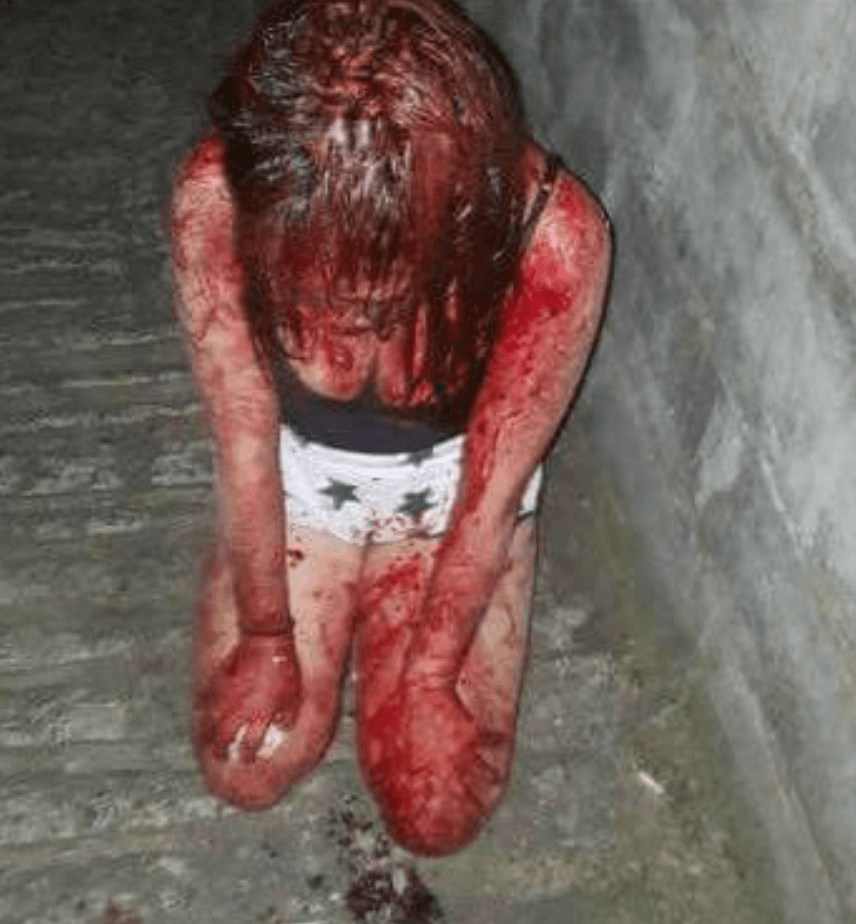 After the attack, one of the girls sent a photo to another student, bragging about what she had done.
Student: What did you do?
Attacker: I hit a kid. They say it's attempted murder.
Student: Sigh
[Photo of victim]
Attacker: Is it too much?
Student: You did that?
Student: Was it just you two?
Student: Did you hit her alone? You're a real psycho ㅋㅋ Did you both do it? Answer me. Answer me you b*tch. Are you really sending that to me and asking me if that's too much? Wow. Until when are you going to keep doing that ㅋㅋ I'm getting really sick of you. You've already done enough, you should control yourself now.
Attacker: Sorry. I'll act properly now.
Student: Was it just you two?
Attacker: Yeah
Student: ㅋㅋㅋㅋㅋㅋㅋㅋㅋㅋㅋㅋㅋㅋㅋㅋ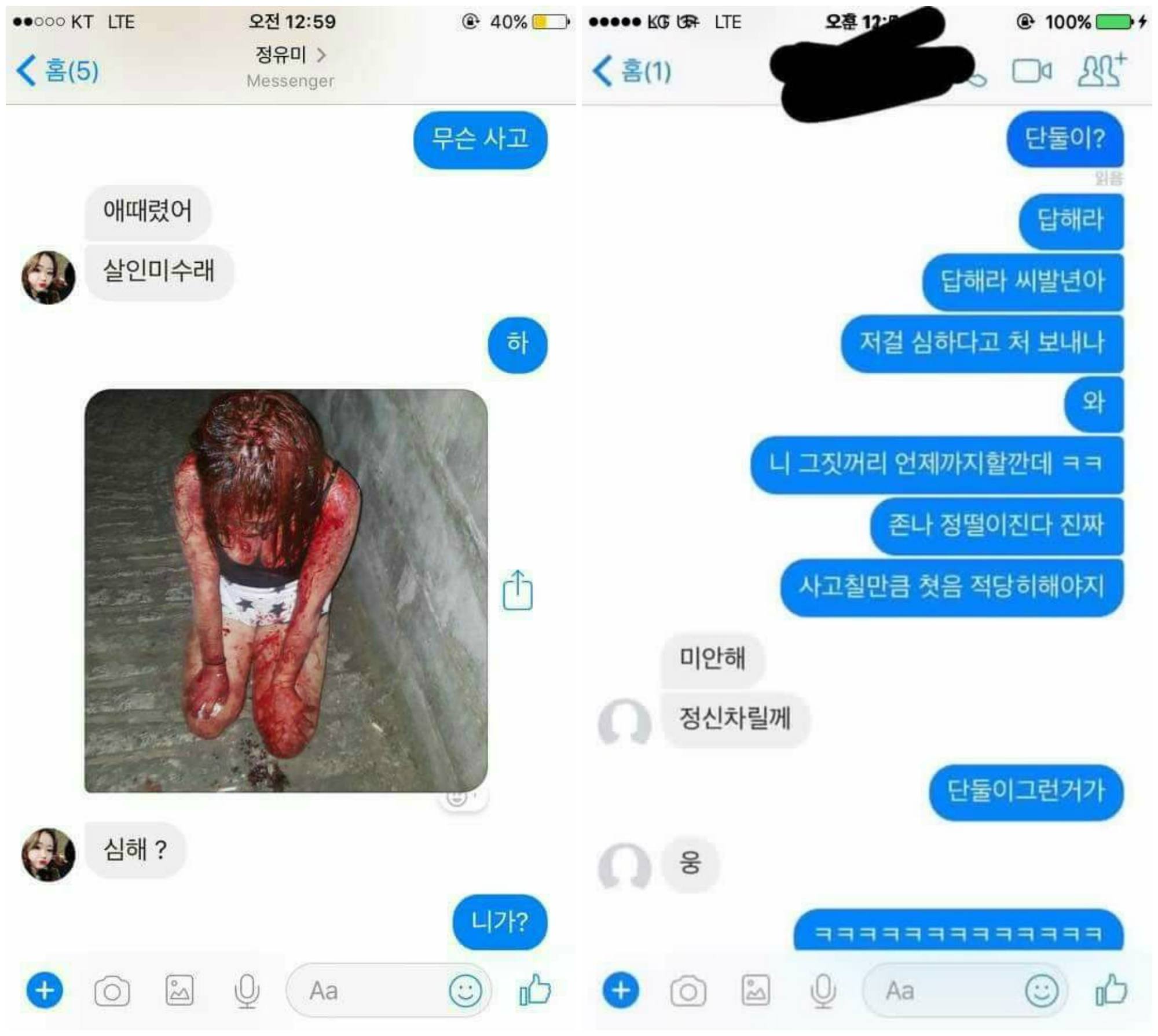 The unconscious victim lay beaten and bloody until discovered by a woman walking by. They called the police and she was immediately hospitalized.
"She was covered in blood and was lying on the floor, with a hat covering her face…"

— Witness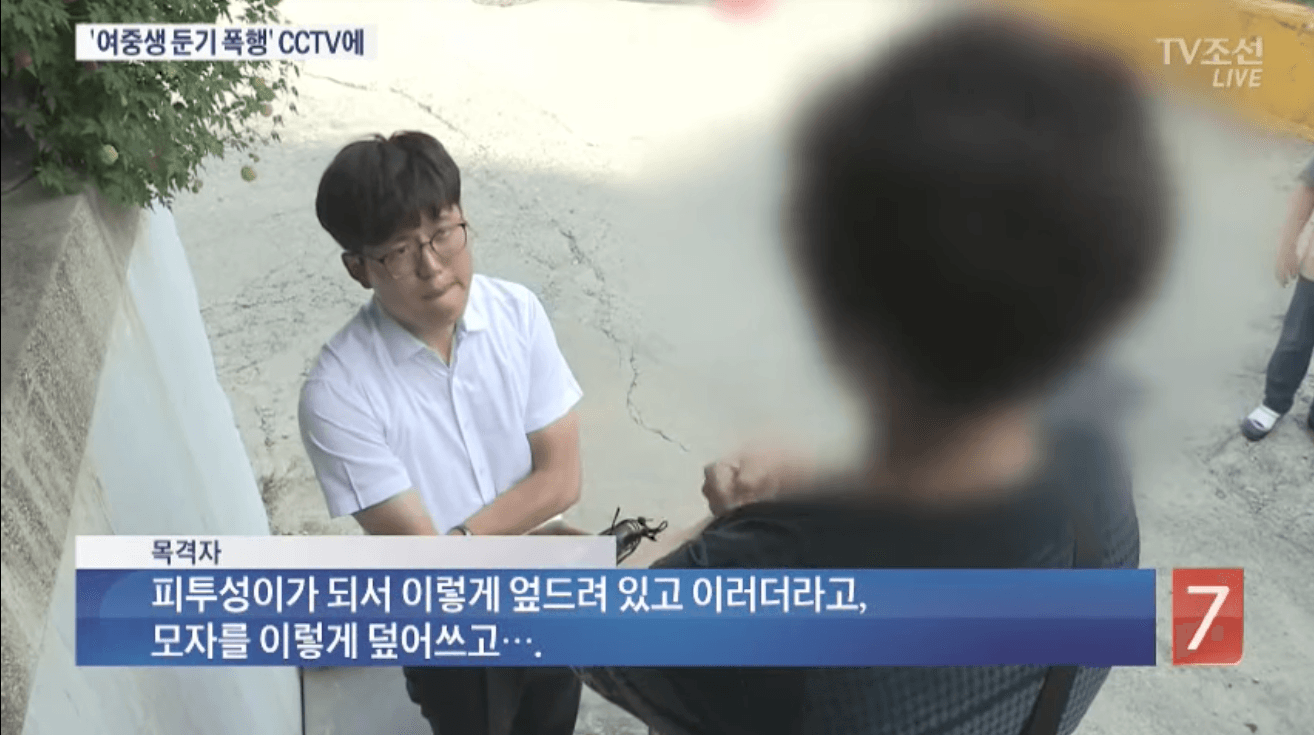 Hospital photos show extremely deep cuts that ripped her scalp open. Her face was unrecognizable after the brutal attack.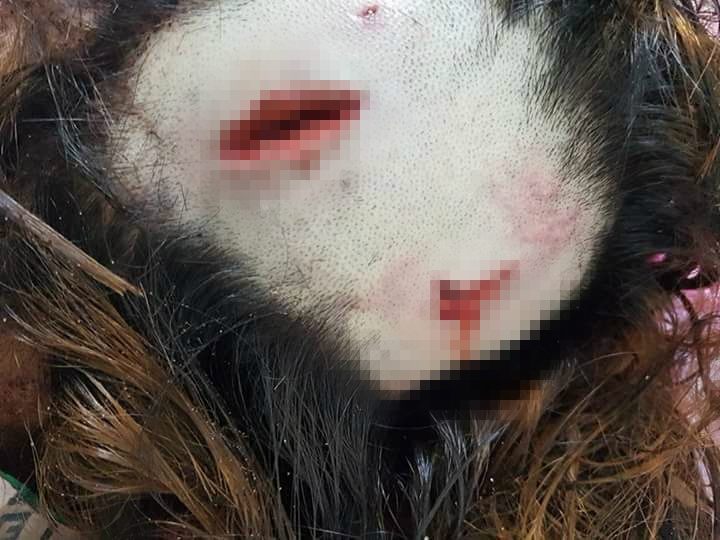 The attackers turned themselves into police, two hours after the initial attack. They confessed to the crime.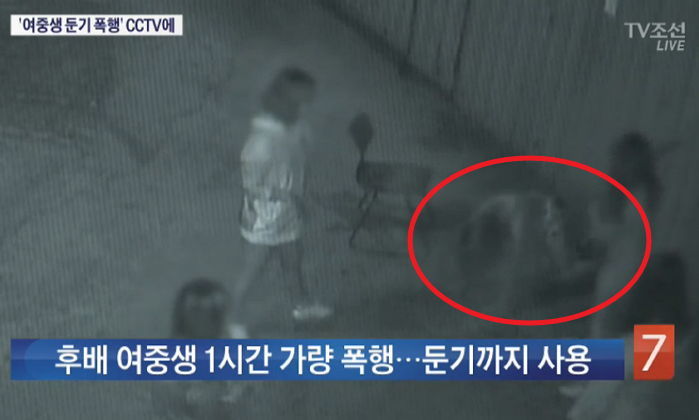 The attackers justified their attack by telling police that they "didn't like the victim's attitude".
"We hit her because we didn't like the way she talked and her attitude."

— Attackers
The victim's mother made a statement on her Facebook and uploaded photos of her daughter, after the attack. It wasn't the first time she was attacked.
"My daughter was beaten up a second time and her face is now a mess. They say the reason was because they wanted revenge for the last time we reported them.

Two months ago, a boy she knew contacted her. He was [one of the attacker's] boyfriend. She was beaten up for picking up his call, and now she was beaten up for reporting the first attack.

Her forehead is bloated like there's silicon in it. I was going to dismiss the previous incident, being a parent myself, but I don't think this is right.

Reporters, please don't write ridiculous things, I have a lot of evidence. I have an audio recording too, so don't say she wasn't injured too badly. My baby can't even eat congee….

As a parent, I don't like revealing everything, but why do you think I am? I just hope my daughter's misfortune can help other kids from suffering the same fate."

— Victim's Mother, Han Joo Yeon
제 딸이 두번째 구타로인해 애가 얼굴이 엉망이 됏어요이유는 5명에서 애를 때려 신고들어간거에 보복이랍니다 두달전에 알고있던 오빠가 연락왔는데 그남자가 선배 남친이었어요 그전화 받았단 이유로 맞고 지금금 그거 신…

Posted by 한주연 on Sunday, September 3, 2017
Korean netizens are flooding the mother's post with support and expressing outrage at Busan police for how they handled the incident.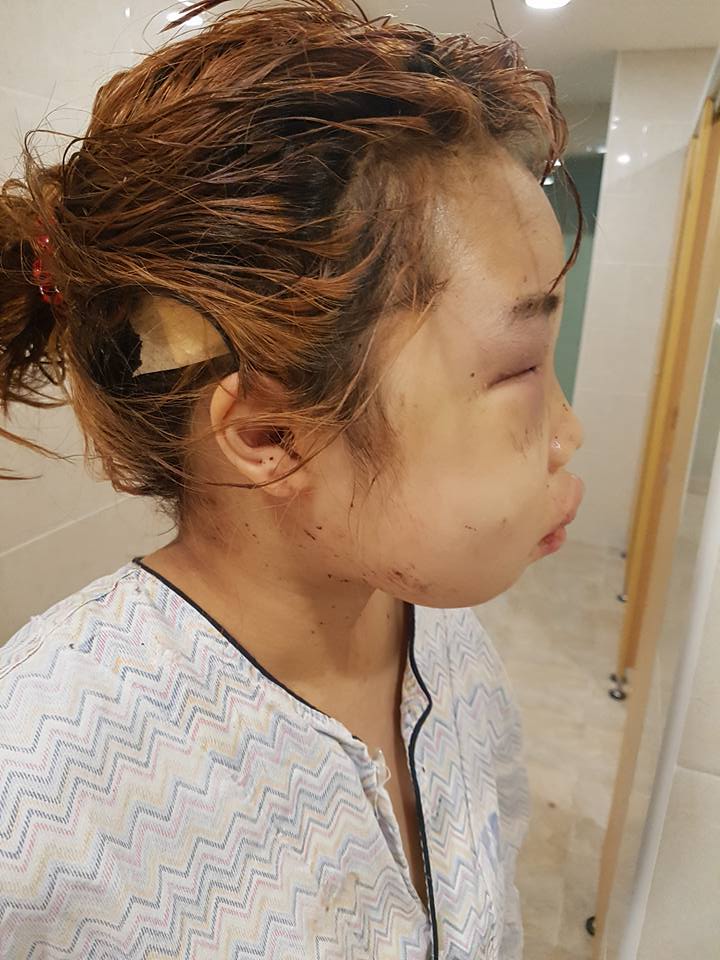 Koreans have questioned why police did not step in sooner after the victim filed her first complaint.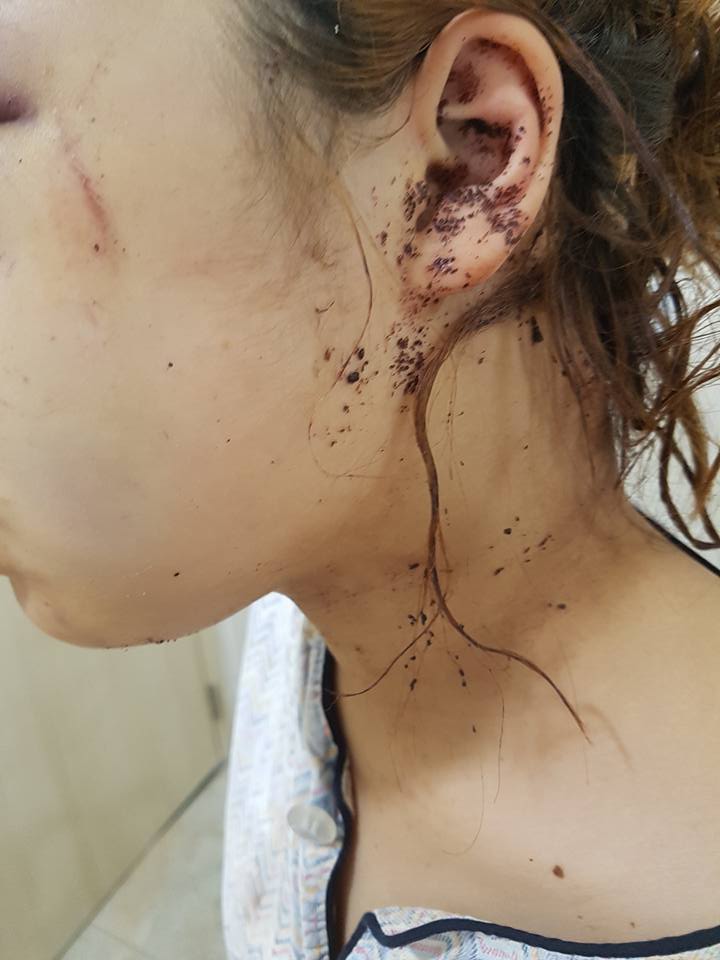 All four of the girls have been taken into custody for the horrific attack. However, the 13-year-old is protected under Juvenile Law and will not be detained, but can still face charges.
[★BREAKING] 14-Year-Old Korean Girl Brutally Attacked By 4 Students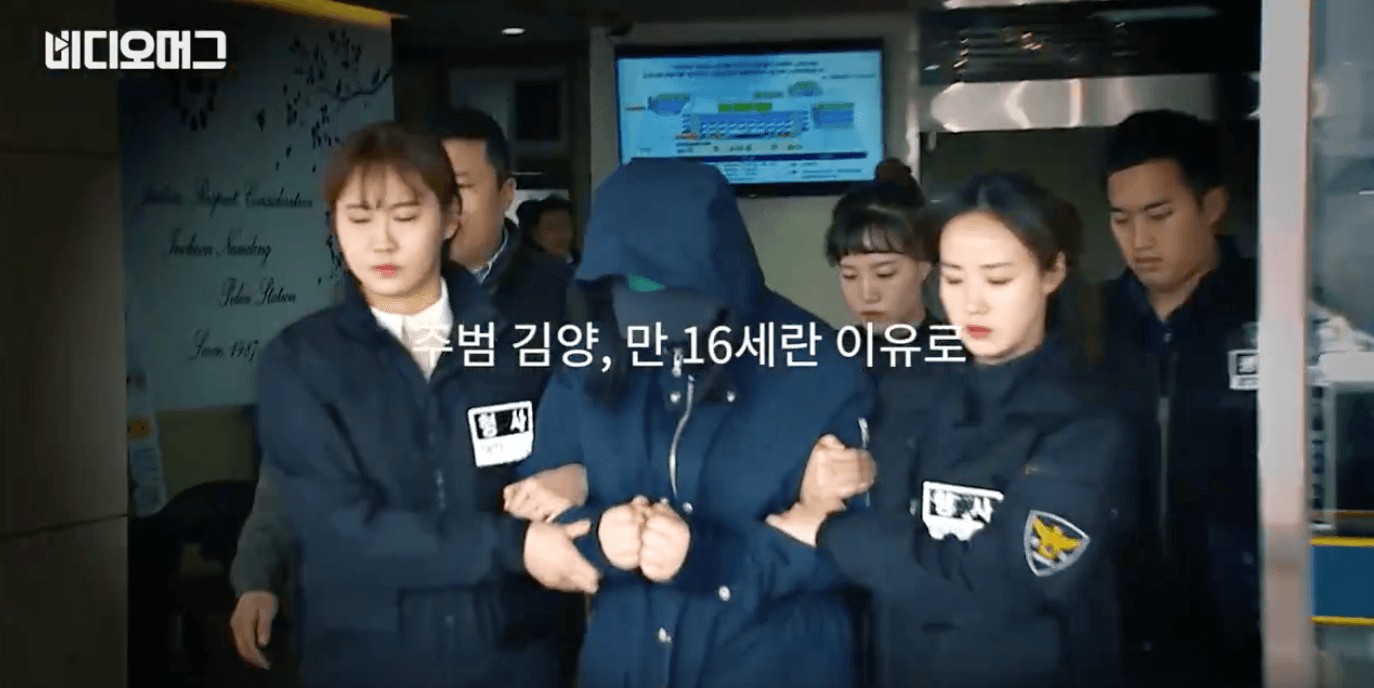 ‼️WARNING: The video is very violent and disturbing.
https://www.youtube.com/edit?o=U&video_id=BJY8hKwoYfg
---
Stay Up To Date On All The Latest Since This Story Broke
[★UPDATE] Victim of Busan bullying attack says she'll never forgive her attackers
Father of Korean Student Who Assaulted 14-Year-Old Girl Wants His Daughter To Be Strictly Punished
[★UPDATE] Three more students have been arrested in regards to Busan bullying attack
Source: Insight [1], [2], and [3]
Share This Post