SM Will Create A Permanent Memorial For Fans To Pay Tribute To Jonghyun
This is how SM will make Jonghyun's memory safe.
After the reports of homeless people pilfering and disrespecting Jonghyun's temporary memorial location, S.M. Entertainment is preparing a permanent memorial spot for Jonghyun so his fans can safely pay their respects to him at any time.
"We sincerely thank you for visiting his memorial and paying tribute to the deceased in this cold weather. We are preparing a separate permanent memorial location so fans can honor him and the long time that they had known him. We will announce the details as soon as possible. Thank you for your consideration."

— SM Town @ COEXArtium
Seoul's COEX SM Atrium is currently covered with heartfelt post-it messages, gifts, and flowers for SHINee's Jonghyun who tragically passed away last month. Fans had created the beautiful memorial for those who wanted to pay their respects but could not attend the funeral services.
This news, then, will come as a relief for many SHINee and Jonghyun fans because the memorial has constantly been vandalized by pedestrians and the homeless for weeks.
Homeless People Allegedly Desecrating Jonghyun's Memorial At SM Artium
Grieving fans are allegedly more upset about the fact that the homeless are wrecking the memorial in their search for food, than the fact that they are taking the food. In fact, it had gotten so bad and out of sorts that grieving SHINee fans actually had to clean the place up, organize the gifts, and put them into appropriate, labeled boxes.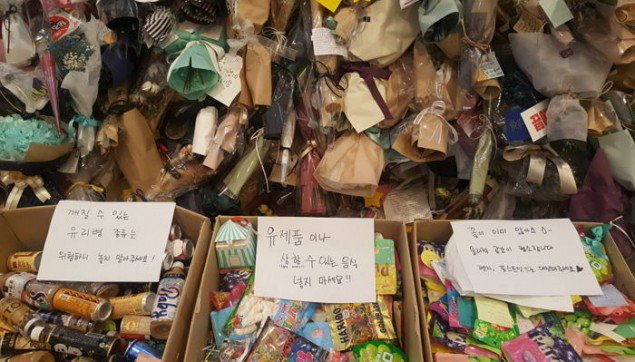 Stay tuned for S.M. Entertainment's announcement on the location of Jonghyun's permanent memorial.
Share This Post