[★TRENDING] Hwang Hana wants to call off marriage to Yoochun
A close friend of Yoochun and Hwang Hana has stated that Hwang Hana wants to break up due to pressure, according to an insider who sat down with the friend for an interview.
"Recently, they have been falling apart.

Miss Hwang likes Park Yoo Chun, but she's having a hard time because people would whisper or take photos of her when she's eating out or walking the streets.

It's even worse because her family is against it.

She usually has a bright personality, but she recently said 'I don't think people like my bright personality. People scare me.

I don't know what to do.'"

– Hwang Hana's Close Friend
The friend went on to discuss that Hwang Hana is over her limit and is suffering from the rumors surrounding the couple.
"Miss Hwang said, 'There are too many groundless rumors about me. It's hard to withstand all of the rumors.

I try not to pay attention to them, but it's over my limit.'

It's true that Miss Hwang and Park Yoo Chun love and cherish each other.

But Miss Hwang is troubled by the recent issues that arose.

She vented to me, 'I want to let go of everything' and even told Park Yoo Chun that she wants to break up."

"I hope everything works out for them. I know it's a difficult time, but I hope they can fight through it."

— Hwang Hana's Close Friend
This news comes after Yoochun released an apology note on Instagram for his lack of confidence and his continued pain a few days ago.
He also apologized to fans for not alerting them to the news of his marriage.
"I don't have anything else to say…. I just wanted to say I'm really sorry to everyone…

I really wanted to but I didn't know.. how…  Honestly, I didn't have any confidence either…  

I'm really sorry to the point of death..

I'm really sorry… Everyday my body is getting worse…. No matter how much I cry… It isn't as painful as the scar I gave you… I'm really sorry..

I really hate the articles popping up in portal sites… And even though it's much too late… I'm sorry..

A few days ago I talked with Darakbang [owner of his fan club]… and I told them honestly.. that I want to start again….

I'm just really sorry…

In the many articles there were stories that even I heard for the first time… But… I couldn't do anything about it…

I'm constantly apologetic to everyone… I really hope the day comes where I can meet you all in person and convey my true feelings…

As for my marriage… I'm sorry I couldn't tell everyone in advance.. I hadn't even apologized [for the previous controversies] so it was difficult for me to tell you…

I hope you understand… I'm trying my best to get through each day…

I know it must be tough for everyone to get through each day like me as well…

I'm really sorry and I thank you… I really, really hope there is a day I can greet you all in person…

Please forgive me and Hana…

I'm sorry again…
— Park Yoo Chun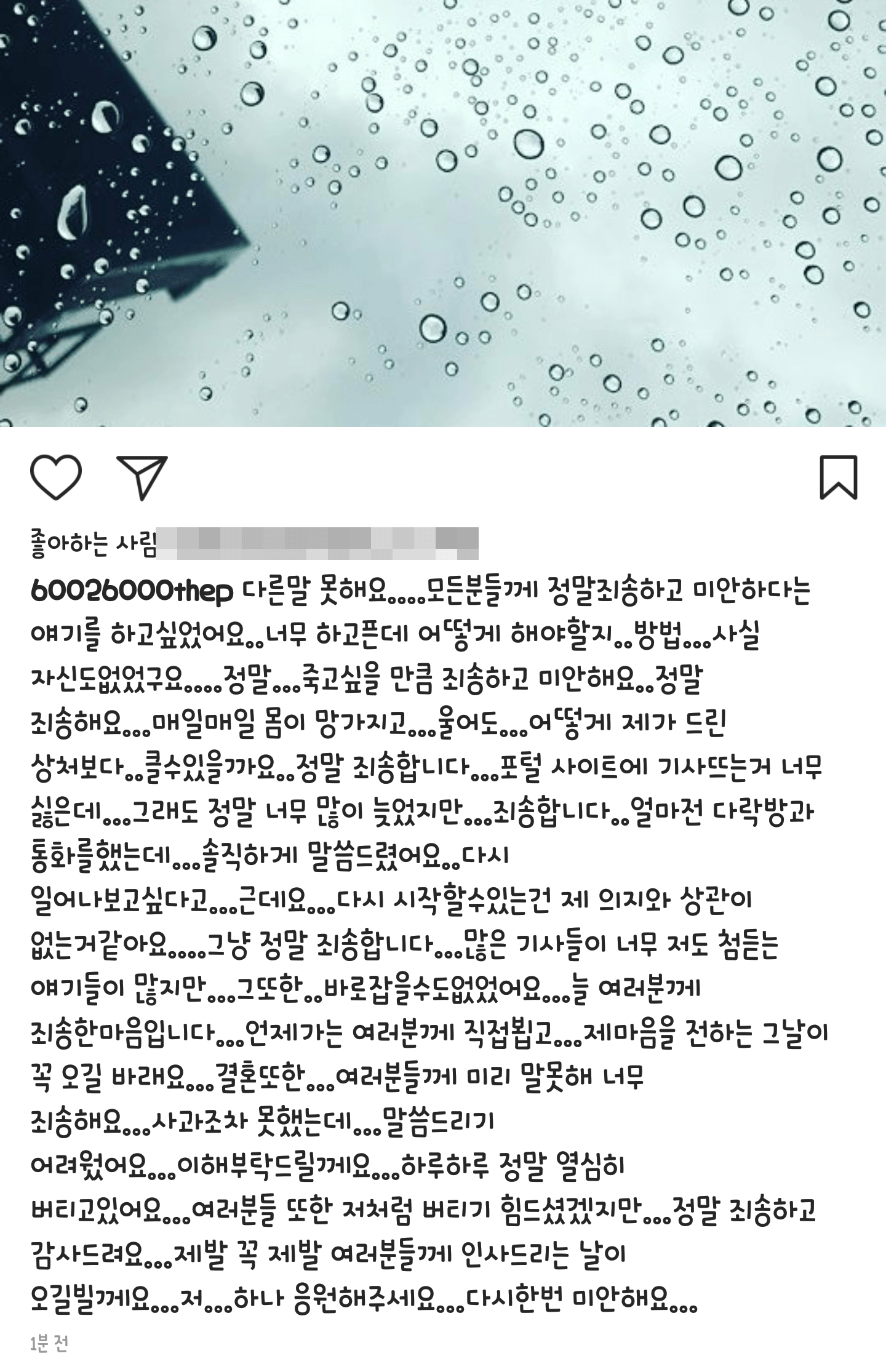 Following the release of the statement Yoochun deleted all of the posts on his Instagram, and Hwang Hana has closed her Instagram entirely.
The friend did not confirm anything about the wedding or break up news and instead said this:
"We are supporting and cheering them on to pull through."
— Hwang Hana's Family and Friends
---
Catch Up On All The News Of Yoochun's Marriage Below
[★BREAKING] Yoochun's alleged girlfriend denies she's dating him, claims everything is a lie
Source: Joongang Ilbo
Share This Post