Jessica Jung and Tyler Kwon spotted on date lasting until 4am
Jessica and alleged boyfriend Tyler Kwon were spotted by Hong Kong media on a date together again.Following their walk together in central Hong Kong, the supposed couple later met with a group of friends for a KTV karaoke singing session that lasted until the wee hours of the night at 4AM local time, said Hong Kong media.
The two first had a Japanese meal with Michelle, the chairman of Macau's jewelry company Marvella Group, well until 11PM local time before visiting the Wan Chai district to meet more than ten friends there for a karaoke session.
According to the reporter on site, Jessica and Tyler looked to be the main host couple of the large get together. As their get together came to an end, Tyler sent their friends off in a mannerly fashion, while Jessica stood by his side, shaking hands and hugging them farewell.
Tyler's chauffeur noticed the presence of a reporter, who then passed the message to Tyler, and another car was dispatched to the scene. It seems that the initial plans for the alleged couple was to set off together in the same care, but with the media's presence now known, it was changed to taking separate cars. Their destinations were unknown, and it was noted that they kept going around in circles, eventually losing the reporter.
Jessica, who also noticed the reporter, smiled at the media while at the same time trying to cover her face.
The reporter then contacted Marvella Group's Michelle to confirm if she was meeting the two for business reasons over a meal, but has yet to receive a reply.
Although Jessica is not reported to be signed under any labels yet, she has been seen accompanying Tyler for numerous events.
The two were captured on several occasions since 2013, although they keep denying that they are in a relationship that reached to the extent of marriage rumors. Besides watching a boxing match together, there were also rumors of having a holiday in Hawaii, living together in Hong Kong, and shopping for baby clothes.
Jessica and Tyler were most recently seen together at the celebration of Reggie Martin's birthday with Daniel Radcliffe and a few others in Macau.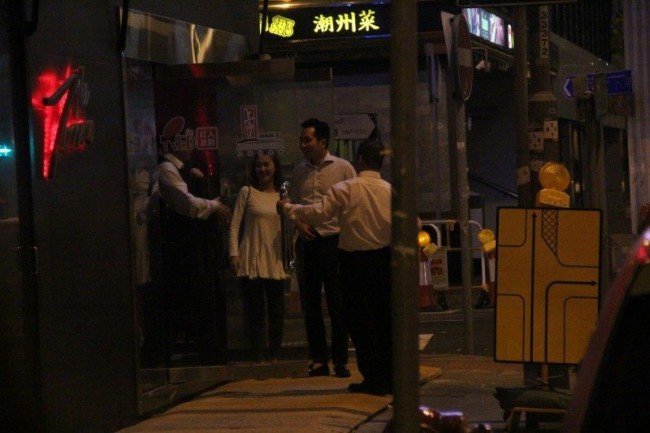 Source: Sing Tao Daily and Liberty Times Net
Share This Post