Luhan expresses sadness over alleged cancellation of reunion with Wu Yifan (Kris)
Wu Yifan (Kris) and Luhan, who were previously confirmed to perform at CCTV's New Year's Gala and spotted attending rehearsals together, have been pulled off of the show's line-up, according to Chinese media outlet Sina.
The New Year's Gala show is scheduled to air on February 18th and has held four rehearsal sessions up till February 14th. On this day, CCTV announced that the number of rehearsal counts is to decrease from 38 to 36. They also added in their official Weibo post, "Specifically which acts will be performed, will be revealed on New Year's Eve."
Later on, Sina exclusively revealed that one of the cancelled acts has been confirmed as the performance involving Wu Yifan and Luhan. Luhan was expected to sing his own rendition of "With You Forever," while Wu Yifan was expected to perform "You Who Sat Next To Me."
Speculated to be a response to the cancellation, Luhan expressed his regret in a Weibo post, stating, "I'm already very happy to be able to experience the rehearsals. Honestly, I am a little upset that I could not persevere till the end. I'm sorry to have caused inconvenience to everyone. I am thankful for all that I have gone through, no matter in the past or in the future. I will work even harder for future projects, and I believe that our tomorrow will be a better day. Watch the Gala show on New Year's Eve with your family."
In his last sentence, Luhan showed ambiguity as to whether he was referring to himself watching the show with his family or asking everyone else to watch it with their families.
In relation to the cause of cancellation, many fans have pointed fingers at SM Entertainment, highlighting the possibility of an interception by the entertainment company. SM Entertainment declared their stand in taking legal action against Luhan and Wu Yifan's alleged illegal activities in China. However, the two former EXO-M members are now fighting back with a counter-suit.
Speculations of the cancellation first began on February 13th, when CCTV's veteran reporter Wang Ping gained much attention with his Weibo post, "This could actually happen? We might not be able to see a few young bloods at the Gala show!" 
Later that day, he posted, "The attendance of some young bloods are uncertain, watch out for tomorrow's rehearsals and you will know the final answer." However, the CCTV reporter has since deleted his Weibo posts after realizing he has caused much hype.
In other news, Wu Yifan's debut Chinese movie Somewhere Only We Know has just released on February 14th, while Luhan's debut film Miss Granny was released on January 8th.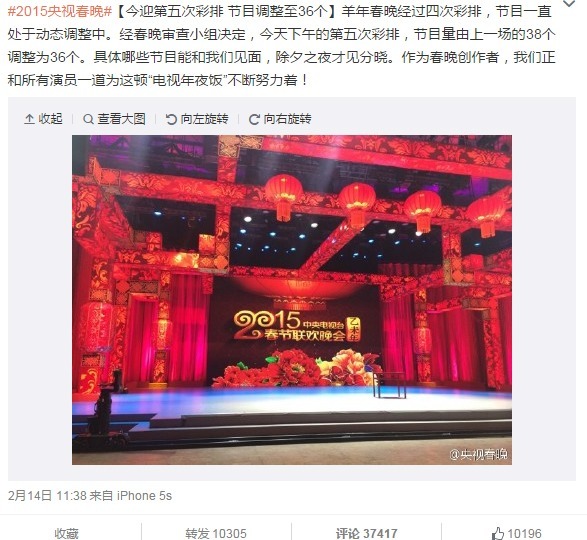 Source: Sohu, Luhan's Weibo, and Sina (1,2)
Share This Post