5 Perfect Idol Couples With Relationships That Ended In Tragedy
Everyone thought they were soul-mates… then something went terribly wrong.
After seeing their chemistry on screen, some fans wish their favorite K-Drama leads would date in real life. Other fans hope the idols they're shipping will fall in love. Sometimes dreams become reality, but unfortunately, these fairytale celebrity romances didn't end with "happily ever after".
1. Goo Hye Sun and Ahn Jae Hyun
In 2015, Goo Hye Sun and Ahn Jae Hyun starred opposite each other in the vampire K-Drama Blood. When Dispatch released photos of the on-screen couple in March 2016, fans were convinced the romance was real. It turns out, they were right.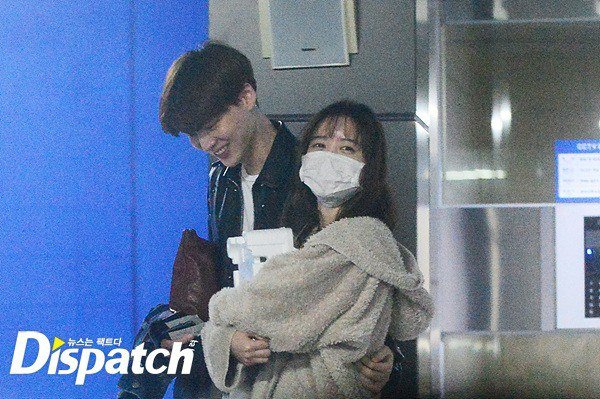 Goo Hye Sun and Ahn Jae Hyun fell in love on set in 2015. They announced their relationship in April 2016 and officially registered for marriage a month later. Fans thought they were the perfect couple until news of their impending divorce broke in August 2019.
On August 18, Goo Hye Sun released a statement on her Instagram account, claiming that her husband filed for divorce because he was "bored" of their marriage and no longer found her sexually attractive.
When I asked him what I did wrong, he would say that I wasn't sexy. My husband told me that he wanted to divorce me because my nipples weren't sexy. Even while we were together, he became bored with our marriage and would fall asleep while watching YouTube videos that only men who were bored with their marriage would listen to…

— Goo Hye Sun
Goo Hye Sun also revealed that she began suffering from depression after their dog passed away. She saw a doctor whom she later introduced to Ahn Jae Hyun for similar treatment. Goo Hye Sun stated that after Ahn Jae Hyun recovered, he began calling other women while intoxicated and would hide the conversations from her. This led to many arguments between the couple.
A year's worth of chat logs between Goo Hye Sun and Ahn Jae Hyun shows the progression of their marriage from sweet love to bitter divide. For a short period of time, the couple sent warm, "I love you" messages back and forth, but their conversations soon became less adoring and more snappish. Ahn Jae Hyun's work was a frequent source of contention. He was often fulfilling schedules and going out with staff members, leaving Goo Hye Sun to feel underappreciated and neglected.
After thinking about it a lot, I don't think this is the right way to live. My heart is also waning.

— Goo Hye Sun
One particularly heated argument happened on Ahn Jae Hyun's birthday. Goo Hye Sun prepared his birthday meal since dawn, but she claims that he only ate a few bites before heading to work. Later on, she became furious after seeing a video of him celebrating his birthday with coworkers. The two argued through text for much of the day, to the point where Ahn Jae Hyun wrote: "Honey, if you hate me, just say you hate me."
Although all of these factors caused their relationship to deteriorate, Goo Hye Sun stated that the true reason for their divorce is Ahn Jae Hyun's alleged extramarital affair. On Instagram, she recently revealed that cheated on her with another actress.
The exact reason for why we are divorcing is because of Ahn Jae Hyun's extramarital affair. A drama actress he is currently filming with and having an affair with came to our house so many times, I was confused and wondered if I could still trust him.

— Goo Hye Sun
Details about Goo Hye Sun and Ahn Jae Hyun's unhappy married life and divorce are still coming to light.
2. Song Hye Kyo and Song Joong Ki
In 2016, the "Song-Song couple" Song Hye Kyo and Song Joong Ki played each other's love interests in Descendants of the Sun. Their characters had one of the most beloved romances in K-Drama history, so fans were overjoyed when the Song-Song couple announced their real-life relationship.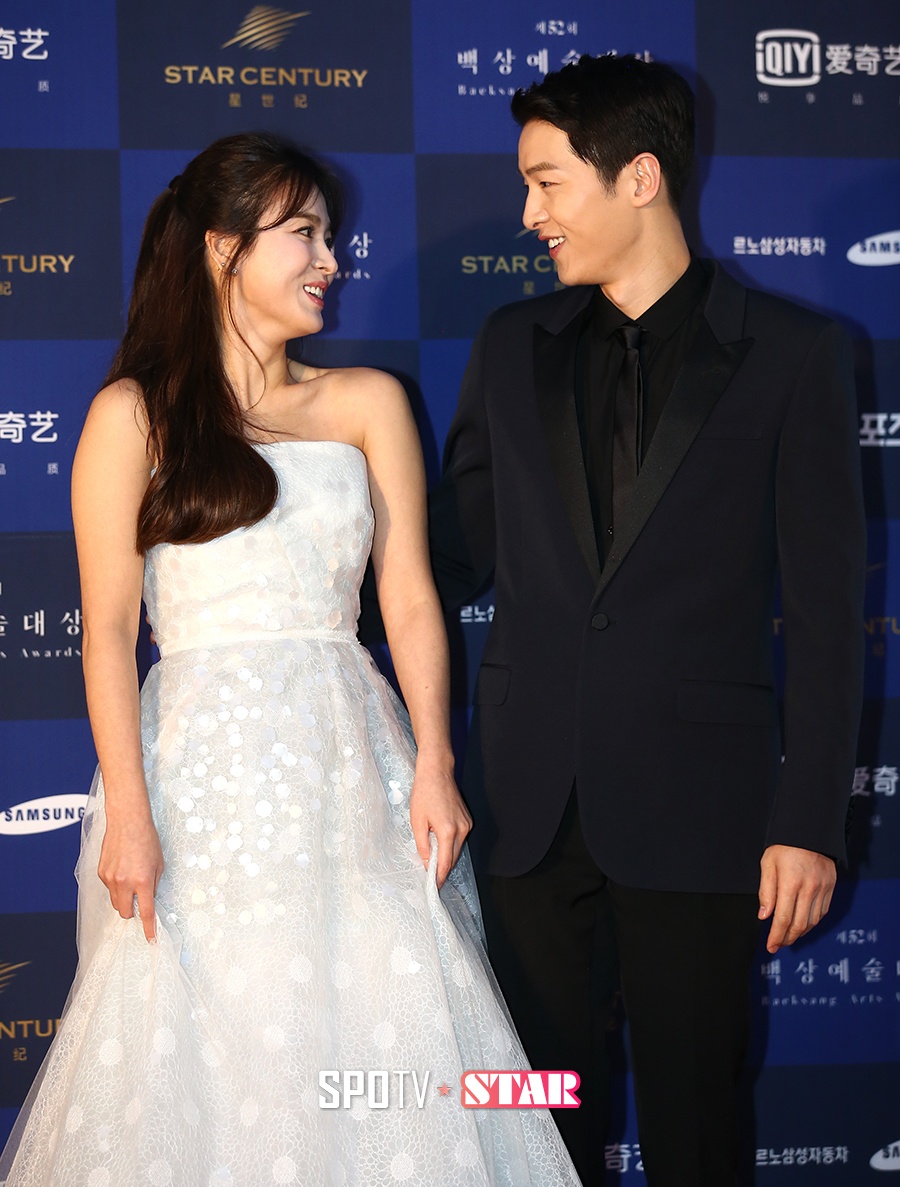 The couple announced their marriage plans in July 2017 and they held their wedding on October 31, 2017. Song Joong Ki proposed to his wife in the winter of 2016 in Japan, where she was working at the time.
On June 27, after 20 months of marriage, Song Joong Ki announced his plans to divorce Song Hye Kyo. Song Hye Kyo reportedly found out about Song Joong Ki's divorce plans through the media. Official statements from the couple and their agencies cite personality differences as the reason for their crumbling marriage and divorce. Although many of the details were kept quiet, both parties underwent a significant amount of stress during the last year of their marriage.
Months before the divorce was officially announced, both Chinese and Korean media continuously focused on Song Hye Kyo appearing in public without her wedding ring, speculating a possible divorce. After the news broke, an insider revealed that she stopped wearing the ring due to rapid weight loss. She lost 5kg (11lbs) and this made her fingers too skinny for her wedding ring.
This insider also expressed concerns over her emotional state.
In addition to her weight loss, her face looked darker and made me worry about her health. She is usually taciturn and doesn't often talk about her inner thoughts but she recently cried while talking about the hardship related to her marriage life and it hurt my heart to see her that way.

ㅡ Insider
Song Joong Ki also experienced health problems during this time. An insider stated that Song Joong Ki experienced stress-induced hair loss while filming Arthdal Chronicles. Staff members suspected that the stress was caused by troubles at home.
Song Joong Ki was having a hard time due to personal stress and he was even experiencing drastic hair loss.

ㅡ Insider
Groundless rumors surrounded the Song-Song couple's split. One of these rumors involved Song Joong Ki's close friend, Song Hye Kyo's Encounter co-star, Park Bo Gum.
Netizens accused him of causing the divorced by having an alleged affair with Song Hye Kyo. All three parties denied these rumors and threatened to take legal action against slanderers.
Despite all the rumors and complications, the divorce itself was surprisingly quick and simple. The couple reportedly only took five minutes to complete their divorce mediation and they are now legally divorced. Song Hye Kyo's agency revealed that there were "no alimony or division of property" in the divorce settlement.
3. Se7en and Park Han Byul
2014 has been called the "worst year for K-Pop" due to a number of disbandments, breakups, and tragedies that occurred within the industry. One of these events was the divorce between actress Park Han Byul and solo singer Se7en.
The couple began their relationship as high school sweethearts in 2002, but officially revealed their relationship in 2009. In the last year of their 12-year marriage, the couple experienced difficulties after Se7en was caught visiting a massage parlor known for prostitution, during his military service.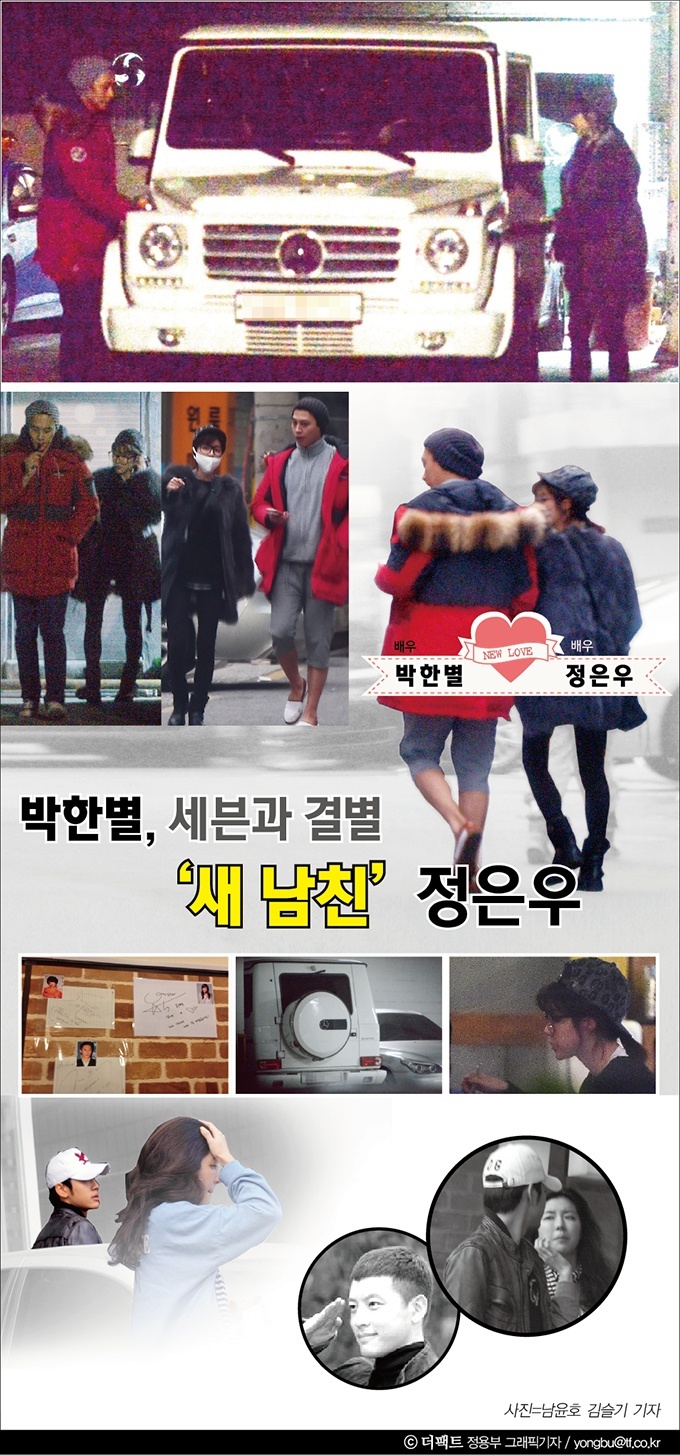 During this tumultuous time, Park Han Byul was photographed by The Fact on various outings with actor Jung Eun Woo. They began dating shortly after the divorce but later broke up. Park Han Byul eventually married a non-celebrity, with whom she had a son in 2018. In 2015, Se7en and actress Lee Da-hae began dating.
4. Lee Dong Gun and Jiyeon (former T-ARA member)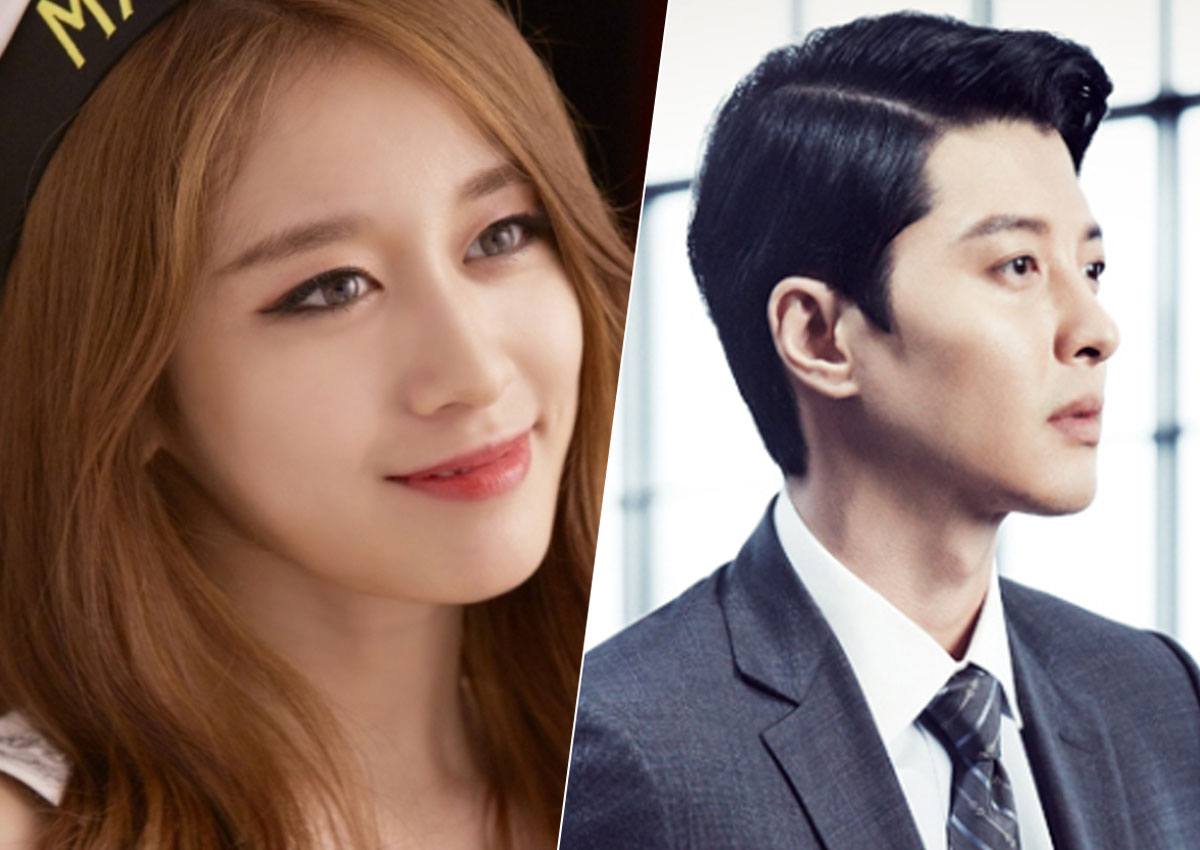 Lee Dong Gun and Jiyeon became close on the set of their Korean-Chinese movie, Encounter back in June 2015. They confirmed their relationship in July of the same year after being spotted on a date. The couple overcame a 13-year age gap and many believed their relationship would withstand the test of time. It came as a shock to fans when the couple called it quits in February 2017.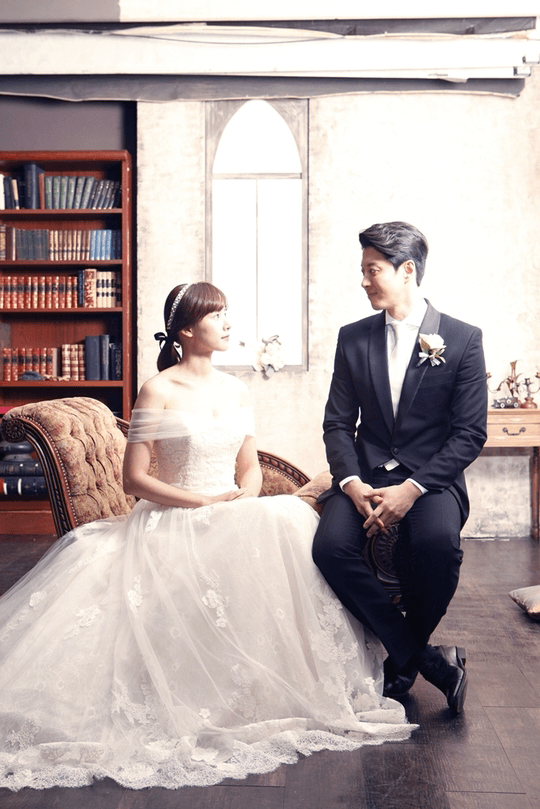 Initial reports suggested that the couple broke up due to being unable to maintain their relationship because of their hectic work schedules. Some fans, however, speculated that actress Jo Yoon Hee may have been the person behind the breakup.
Just 26 days later after the breakup, Lee Dong Gun was confirmed to be dating Jo Yoon Hee. Within 3 months, they were married and expecting their first child.
5. Dongho (former U-KISS member) and Kim Seehee
After leaving U-KISS in 2013, 21-year-old Dongho tied the knot with his non-celebrity wife in November 2015, making him the youngest idol to be married.
Shortly after, Dongho surprised fans with a photo of his newborn baby, Asher, who was born on June 29, 2016. Everything seemed picture-perfect for this sweet, little family until news of their divorce went public in September 2018.
In an official statement, Dongho wrote that he filed for divorce due to "personality differences", while living apart from his wife and son. During that time, Dongho was going back and forth from Korea to Japan working as a DJ and running his own business.
Soon after news of their divorce broke, past Instagram posts by Kim Seehee surfaced. In multiple posts, her captions referred to how she was struggling to raise a child alone and how her son was the main reason that she continued to get up every day.
The posts, which have since been deleted, included photos of herself with Asher, along with captions that described how she felt like a single parent during the marriage.
It's so hard because of you, but I gain strength because of you. #RaisingChildAlone

— Kim Seehee
Living becomes harder everyday but I make reasons to live on. I'm trying my best to not lose to reality, and my mom and Asher told me that they're my hope. I'm going to rise up one more time ❤ I promise I'll always protect you.

— Kim Seehee
Dongho was absent in many of Asher and his mom's special dates. Asher's mom celebrated her son's 2nd birthday alone, until she had to recruit her friends to assist her. She also referred in one of her deleted posts, "My son met his father for the first time in a month."
My Asher finally turned two~~ Congratulations, my Asher(2)!!!!!!!!!! I wanted to create a wonderful memory for Asher, so I walked around Coex for 3 hours while carrying him alone. I thought I was going to die, but I was able to have a good birthday party after recruiting some of my friends

— Kim Seehee
In Dongho's statement, however, he stated that he and his ex-wife would both continue to take responsibility as parents, despite the divorce.
The decision was made after much discussion and contemplation and we did not break up on bad terms so we will do our best to take responsibility as the parents of a child despite the fact that our marriage has come to an end.

— Dongho
Share This Post