Each BIGBANG Member Caused Scandals That Shocked The Nation, Here's The Full List
Each member has been involved in a nationwide scandal.
With Seungri's scandal taking over news portals, both in Korea and around the world, many fans of K-Pop have returned to saying how the entire group of BIGBANG is problematic, minus Taeyang. Considering BIGBANG is one of the biggest names in K-Pop History with all of their accolades, they also have made a name for themselves due to all of the scandals each individual member has been involved in. Here is the full list of shocking scandals each BIGBANG member was involved in.
Daesung: Car Accident, 1 Man Dead
On May 31, 2011, Daesung was involved in a car accident on Yanghwa Bridge, where he struck a motorcyclist known as Mr. Hyun, who was lying on the ground due to a previous accident. Shortly after hitting Mr. Hyun, Daesung also hit a taxi that was nearby. The taxi had stopped to try and help Mr. Hyun, who was unresponsive. YG Entertainment announced Daesung would be on hiatus and reflect on himself and his actions during the investigation.
There was a car driving ahead of Daesung, who was able to spot both Mr. Hyun on the ground and the taxi, which had its emergency lights flashing. Daesung was unable to react in time, as he was driving 80 km/h in a 60 km/h zone. He hit Mr. Hyun with his Audi, dragging him 22.8 meters across the expressway, and then hit the taxi that was parked.
Mr. Hyun was pronounced dead, and Daesung was labeled as a murderer. Follow-up investigations by the police, however, concluded that Mr. Hyun had a blood alcohol level of 0.186% at the time of his original accident, more than 3 times the legal limit of 0.05%; this accident caused major injuries to his face, neck, and back.
During the investigations, Daesung stated that he did not see Mr. Hyun on the ground, and only noticed him after getting out of his car to check on the taxi driver. It was also determined during the investigations that neither Daesung nor the taxi driver had any alcohol in their system at the time of the crash.
The National Forensic Service (NFS) conducted an autopsy on Mr. Hyun, and determined that there was only 2 minutes and 12 seconds of time between Mr. Hyun's first accident and Daesung's collision with him. The NFS came to the conclusion that it was unlikely Mr. Hyun died of his injuries within that short amount of time.
On August 29, 2011, the Seoul Prosecutor's Office decided to dismiss the charges against Daesung, stating that there was not enough evidence that Mr. Hyun was alive when Daesung's car hit him. While the NFS concluded that it was unlikely Mr. Hyun was alive at the time of the crash, there was insufficient evidence to prove that claim. The prosecutor's office also stated that they could not rule out the possibility that Mr. Hyun was killed due to his prior accident.
Based on the evidence that we have acquired, it is true that Daesung hit Mr. Hyun due to his negligent driving, failing to see him on the ground. However, it is hard to directly connect Daesung's negligent driving to Mr. Hyun's death, as there is no conclusive evidence. Because of this, and the idea of 'innocent until proven guilty', we have decided to drop all charges against Daesung.

— Seoul Prosecutor's Office
Daesung would remain on hiatus until November 6, 2011, when he joined BIGBANG at the MTV Europe Music Awards in Belfast, Northern Ireland. Later, on the February 20, 2012 episode of SBS's Healing Camp, he revealed that he even had suicidal thoughts during his hiatus.
G-Dragon: Illegal Marijuana Usage
At the same time Daesung was on hiatus due to his car accident, another member of BIGBANG got into a controversy. On October 5, 2011, G-Dragon was indicted on charges of smoking marijuana. Marijuana is highly illegal in Korea, only just being legalized for specific instances of medicinal use back in November 2018.
Investigators determined that G-Dragon smoked marijuana in Japan sometime in May. On June 15, G-Dragon was subject to a urine drug test, which came out negative. However, hair drug test results released in July showed signs of marijuana.
G-Dragon confessed that he did consume a marijuana cigarette at a club in Japan. He didn't know for sure that it was marijuana, but he still took it.
I smoked a cigarette that was given to me at a club. It smelled kind of different from a normal cigarette, so I had a suspicion that it was marijuana, but it is still true that I did smoke it.

— G-Dragon
Charges against G-Dragon were dropped for various reasons, including the fact that this was G-Dragon's first criminal offense, and that the amount of marijuana that was found in his system was so small.
G-Dragon temporarily halted all promotions following his marijuana scandal to reflect on his actions, and YG Entertainment also released their own statement, expressing their apologies to all of BIGBANG's fans.
We would like to offer our sincerest apologies to all of BIGBANG's fans. G-Dragon tested positive for small amounts of marijuana, which surprised us. During BIGBANG's Love and Hope Tour in Japan, a Japanese fan recognized him in the bathroom, and offered him a cigarette. Out of courtesy, G-Dragon took 2 or 3 puffs, but realized it was different from normal cigarettes. He flushed the remainder of the cigarette down the toilet.

After the results of drug test came out, and seeing the result come out as positive, we contacted prosecution and told them exactly what happened that night in Japan. Now, even though there was no legal penalty given to G-Dragon, the guilt and responsibility we have to carry is worse than any other penalty that can be levied.

— YG Entertainment
Some Koreans noticed that G-Dragon suddenly shaved his head in August 2011, believing he was trying to avoid any further drug tests. However, Kim Hwe Jong of the Seoul Prosecutor's Office shut down these rumors.
The truth is, G-Dragon's marijuana tests took place in June and not in July. We did not know that G-Dragon shaved his head in August. By the time he shaved his head, the case was already closed. Therefore, it is false to say he shaved his head to avoid more drug tests. Because the case is closed, there are no further plans for investigations.

— Kim Hwe Jong
G-Dragon made his return to BIGBANG at the MTV Europe Music Awards in Belfast, Northern Ireland on November 6, 2011, the same day that Daesung returned following his car accident scandal.
G-Dragon: Military Service Scandals
Starting in 2017, G-Dragon was accused of receiving special treatment regarding his (then) upcoming military enlistment. Koreans suspected G-Dragon of receiving special benefits due to the amount of time he was delaying his enlistment. However, it was proven that any Korean man is able to receive the majority of military delay length, minus the 90 days he received for celebrity promotions.
G-Dragon's military enlistment was delayed from 2009 to August 2016 as he was considered a student, completing both undergraduate and post-graduate degrees. He also was able to receive an additional 370 days of enlistment delay due to his application to a Ph.D. program. Following the 90 days of enlistment delay he received as a celebrity, which was used to take part in BIGBANG's Last Dance Tour, he enlisted in the military on February 27, 2018.
Less than 3 months after his enlistment, G-Dragon was reported to be hospitalized at a university hospital in Seoul due to nagging injury in his right ankle. YG Entertainment announced that G-Dragon would return to the military base once he'd recovered from his surgery.
Once his surgery has completed, he will return in a few days.

— YG Entertainment
Except even after he returned to his military base, he kept on returning to the hospital. Dispatch accused him of receiving special treatment from the military due to his status as a high-profile celebrity. The problem arose when G-Dragon was reportedly hospitalized in a large, luxury room that is not accessible for anyone under the Colonel rank. At the time, G-Dragon's rank was Private First Class, one of the lowest ranks in the army.
Privates are supposed to use rooms that hold up to eight people, but instead, G-Dragon was able to stay at one of the best rooms in the hospital. His room contained air conditioning, a refrigerator, and a television for a comfortable stay. The rooms designated for Privates did not have these luxuries — not even private bathrooms. Dispatch checked to see if G-Dragon was placed in a special room because of overcrowding, but noted that many of the rooms were empty.
G-Dragon was also accused of receiving preferential treatment regarding visitors. Visitors at the hospital were only allowed from 11am to 5pm. However, a fellow soldier claimed G-Dragon had visitors who stayed much later.
I saw someone that seemed to be his manager stay past 5pm.

— Soldier
A representative from the military attempted to clear up the situation, stating luxury suites don't exist at the Yangzhou Armed Forces Hospital. G-Dragon was staying in a one-person room that could be used by any personnel who has special needs during their recuperation. They also explained that air conditioning, refrigerators, and televisions are not exclusive to one-person rooms.
There isn't a luxury suite at the Yangzhou Armed Forces Hospital.

G-Dragon was admitted to a one-person room. Colonels use the one-person rooms, but even privates who requires special care or stability through isolation are allowed to stay in these rooms. Even low rank soldiers who have severe snoring stay in these rooms.

There are air conditioning, TVs, and refrigerators in common (shared) hospital rooms too.

— Military Representative
He also claimed G-Dragon was able to stay in the one-person room because of his need for privacy. As a well-known figure, his private information and health status requires extra protection.
G-Dragon was assigned to the one-person room because there was a request to protect his private information.

— Military Representative
But Dispatch fired back, claiming both the Military representative and YG Entertainment's statements were false. They released an image from what seemed to be a computer screen at the hospital, listing one of the rooms as 'luxury room'. Dispatch explained that according to their investigation, G-Dragon stayed at the same very room.
The Yangzhou Armed Forces Hospital reportedly had two one-person rooms in complex 301: Room 11 and 12. G-Dragon stayed in room 11 in the beginning, and moved to room 12 later on.
"YG says there was 'no special treatment and no luxury suite', but the truth is, the luxury suite exists. G-Dragon stayed at room 311 in complex 301. That is the luxury suite."

— Dispatch
G-Dragon has since been accused of not being promoted normally in the military due to missing too many days, but a military official revealed this accusation was also false.
The rumors claiming that [G-Dragon] didn't get promoted because he took too many days off is untrue. We can't reveal the details because it deals with his personal information.

Even if you failed to be promoted, you're automatically moved up in rank over time. Soldiers are allowed 30 days of sick leave every year. [G-Dragon] was also allowed the same amount of vacation days as the rest of the soldiers, so there is no issue.

— Military Official
G-Dragon is scheduled to be discharged from the military on October 26, 2019.
G-Dragon "Dry Humps" Dancer At All Ages Concert
During his "Shine A Light" concert, G-Dragon and one of his dancers performed an intimate dance on a bed, in which he was accused of inappropriately "dry humping her"  in front of thousands of young kids. The performance brought heated criticism from the public towards G-Dragon, insisting that he'd gone too far.
The controversy was so great that the Korean government had to conduct an investigation. When the dancer, Aimee, was interviewed about the incident, she asserted that it was merely a short moment of straddling for the performance and "not a big deal".
T.O.P: Drug Usage And Overdose Scandals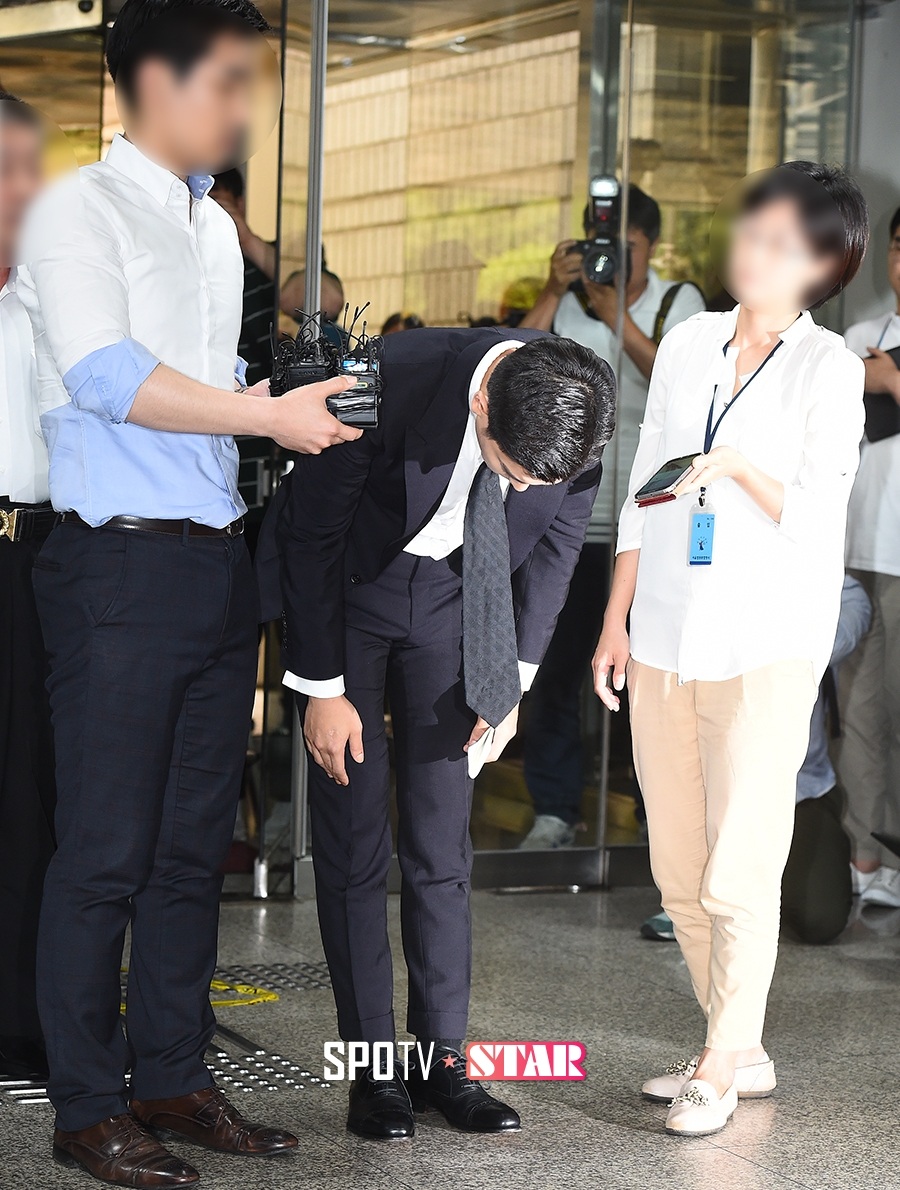 May 31, 2017. While he was serving in the military, T.O.P was revealed to have smoked marijuana in October 2016. While he originally denied the claims, saying he smoked an electronic cigarette, he later admitted that he did smoke marijuana from a statement through YG Entertainment.
First, we would like to convey our deepest sincerest apologies. After confirming details, Choi Seung Hyun [T.O.P] was in fact summoned for an investigation, under suspicion of smoking marijuana before his military enlistment.

He has complied with the investigation and has admitted to most of his crimes and is deeply regretting his actions. We are sorry to worry so many people."

— YG Entertainment
It was discovered that a controversial trainee, Han Seo Hee, was originally charged with smoking marijuana, when investigators discovered that T.O.P smoked marijuana with her on at least 3 different occasions.
June 3, 2017. 4 days later, T.O.P broke his silence and released his apology to the public, sharing his regrets for his actions, and how he deserves whatever punishment was to be given to him.
June 4, 2017. T.O.P confessed that he smoked marijuana twice. He was charged with using marijuana 4 times total: twice in liquid form and twice normally. He denied the charges of using it in liquid form, only admitting to using it normally.
June 6, 2017. Just 2 days after his confession, more news regarding T.O.P shocked the world as it was revealed he was rushed to the hospital following a drug overdose. YG Entertainment confirmed shortly after that T.O.P was indeed hospitalized.
We heard that T.O.P is at the emergency under intensive care for a drug overdose. His mother is at the hospital keeping watch over him. I have not heard anything else at the moment.

— YG Entertainment Official
On the same day, it was revealed that T.O.P would regularly take sedatives, and had been taking them since 2016. The police shared that T.O.P had been regularly taking sedatives while in the military. The Korean military prohibits any person from having ingestible medication while on base, but the fact that T.O.P had access to these sedatives indicated that they had been prescribed to him.
T.O.P regularly takes sedatives but according to police, he took more than his usual dosage.

— Police Insider
There were reports late at night claiming T.O.P had woken up, and was just "peacefully sleeping", which infuriated T.O.P's mother, who tearfully declared her son was dying.
My son is still unconscious and to read articles that say he's "deep in sleep" is hurtful. Please edit and refrain from saying such things. We don't know how things will turn out. My son is in critical condition. I see my son dying but I also see reports saying he's just sleeping. Isn't that wrongful reporting?

Due to the lack of oxygen, he may have possible brain damage.

— T.O.P's Mother
YG Entertainment corroborated T.O.P's mother's claims.
When T.O.P's mother saw the police quote she was furious. T.O.P is currently wearing an oxygen mask and he is unconscious. Visitation rights are restricted and only close relatives are looking over him

— YG Entertainment
June 7, 2017. Ewha Woman's University Mokdong Hospital held an emergency press conference to discuss T.O.P's condition and revealed he overdosed on benzodiazepine (a drug to help fight anxiety). The doctors were unable to determine if he had consumed any other drugs. The carbon dioxide levels in his blood were at a dangerous level, to a point where he could have received brain damage. Notably, doctors who treated him confirmed that he had not yet recovered and was still unconscious, contrary to what some media outlets reported.
June 8, 2017. T.O.P had regained consciousness and was able to walk around his hospital room. Later in the day, he would leave the hospital intensive care unit to move to a different hospital to continue treatment.
T.O.P will be moving to a different hospital to continue treatment and is currently going through necessary procedures to move.

The Mokdong Hospital does not have private rooms but his guardian wanted private rooms. That is the main reason they decided to move hospitals.

Due to her request, we cannot reveal which hospital he will be moving to.

— Mokdong Hospital Staff
T.O.P had only one thing to say when leaving the ICU. "I'm Sorry."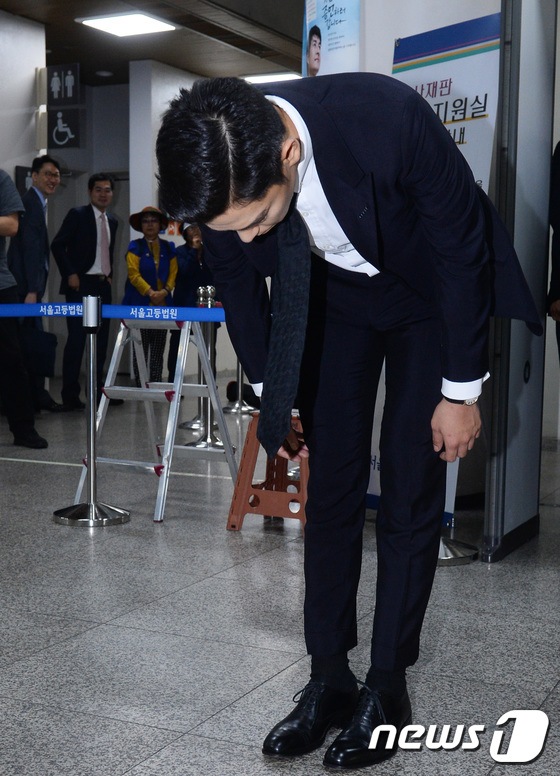 June 29, 2017. T.O.P had recovered and was able to attend his trial in person, where he admitted to all 4 counts of using marijuana: twice in liquid form and twice in normal form.
I admit to everything.

— T.O.P
T.O.P received 2 years of probation, with 10 months in prison if he violated probation. At court, he made his statement, showing his remorse.
I have been suffering from depression for a very long time. I made a wrong decision and made a mistake that I cannot turn back. This happened all in the span of one week. That week is the worst time of my life and I regret it sincerely and deeply. I am ashamed of my self and will willingly take any form of punishment.

— T.O.P
The same day, it was revealed that T.O.P and Han Seo Hee were dating, but he ended his relationship with her and stopped smoking marijuana.
During the incident, T.O.P was under mental distress and psychologically stressed out. He met with Han Seo Hee when he was drunk and spontaneously decided to smoke with her.

T.O.P is deeply sorry for what he did and regrets it a lot. He did drink heavily and took Han Seo Hee up on her suggestion [to smoke] but he ended his relationship with Han Seo Hee and stopped smoking marijuana.

He has currently suffered unrecoverable amounts of damage as a celebrity from an impulsive crime he committed previous to the army. Please show him leniency and give him a light sentence such as a fine.

— T.O.P's Lawyer
August 23, 2017. Han Seo Hee broke her silence, and accused T.O.P and YG Entertainment of pinning the blame on her because she was a "nobody" and he had so much more to lose in terms of reputation.
I've acknowledged and am deeply reflecting about the crimes that I've committed. He was the first to offer [marijuana] to me. I never once forcefully persuaded him, and the liquid marijuana wasn't even mine.

I thought I could understand that they would put the blame on me since I don't have much to lose, and he had everything to lose. I thought it would be better to just stay silent and let it pass. People who wouldn't believe me would never believe me anyway.

— Han Seo Hee
Due to the controversy, T.O.P's military service was put on hiatus while he was undergoing investigation and trial. The 117 days he served before his marijuana scandal were still recognized and he resumed his military service on January 26, 2018. T.O.P's expected military discharge date will be June 27, 2019.
Taeyang: Marriage with Min Hyo Rin
Taeyang is well known as the only member in BIGBANG who has never had a negative scandal. In fact, his biggest scandal is dropping the news of his wedding with Min Hyo Rin without any notice! YG Entertainment confirmed on December 18 that the two would be getting married before Taeyang enlisted in the military.
The same day, Taeyang shared his letter to his fans, personally confirming his marriage and asking his fans for their blessings.
Hello everyone, this is Taeyang.

Today, I want to share with you guys about the most important and joyful promise I have made in my life.

I have pledged to spend the rest of my life with Min Hyorin, the one who has always stuck by me for the past four years. Through all the good times and the bad times, she has always believed in me and now I look forward to making a beautiful life together.

To all the fans who always treated me as if I was family, to all of my Big Bang members, to all of my YG family, to everyone I've ever had the pleasure to work with and meet, I want to say THANK YOU. I will continue to live my life with responsibility and humility.

My hope is that you will continue to support us and give your blessings for our future ahead as a couple.

— Taeyang (on Instagram)
Their wedding invitations were revealed by 1TYM's Song Baek Kyoung, who has known Taeyang ever since he was in 5th grade.
Their wedding was attended by numerous celebrities, including BLACKPINK, WINNER, CL, Sandara Park, Zion.T, and many cast members from the movie Sunny, which Min Hyo Rin starred in. The union of Taeyang and Min Hyorin was celebrated nationwide, on a scale of something only a BIGBANG member would produce.
Seungri: Ongoing Sex Scandals
The youngest member of BIGBANG was wrapped up in his first major scandal on September 13, 2012 when one of Japan's biggest gossip magazines Friday released exclusive pictures and an interview with a woman who claimed to have had a one night stand with him. In the magazine pictures, a man who appears to be Seungri could be seen sleeping shirtless.
The woman who took these photos was also quoted talking about Seungri's habits of choking her and being violent and bad in bed.
He would ejaculate on my chest and just threw me a towel, he didn't even wipe it off (the semen). He didn't even kiss at all (during sex).

— Woman giving interview
Less than one week later, Seungri was swept up in another scandal, involving Japanese actress Anna Kubo. The two were seen hugging, and Anna Kubo also gave Seungri a kiss. YG Entertainment quickly denied any rumors of a relationship, stating there is no such scandal or anything even close to that happening.
Seungri opened up about the one-night stand scandal about a year later, when he guested on SBS's Incarnation.
I came on this show because I felt like I should let the public know what happened during that [one-night stand] scandal.

It was the first time ever an idol became the center of a scandal like that. The magazine (Friday) is very famous… they don't talk about anyone who isn't famous.

This was my first scandal, and it was so big. I was really scared and surprised.

But in the end, I think a lot of people started looking at me more like an adult because of that scandal.

Honestly, the magazine told me that they were going to print the pictures and story in the magazine a week before it was issued. But since it was a physical copy printed in a factory and not on an internet article, I couldn't stop it even though I knew about it.

— Seungri
Seungri: The Burning Sun, and Sex Chatroom Scandal
The Seungri Scandal has taken over the Korean news industry, with new reports about the wrongdoings of Seungri (and the people connected to him) coming out every day.
The scandal started on November 24, 2018, with reports of sexual harassment at a club in Gangnam where Seungri was executive director, called Burning Sun. As time went on, details continued to emerge highlighting the club's history of prostitute solicitation, physical and sexual assault, rape, and use of date rape drugs.
Chat logs implicating Seungri in the solicitation of prostitutes were revealed, but YG Entertainment initially denied the legitimacy of them, claiming they were all fabricated. But more and more chat logs were revealed, revealing not only Seungri, but other celebrities such as Jung Joon Young, Choi Jonghoon, Yong Junhyung, and Lee Jonghyun's involvement in the scandal. Illegal hidden camera videos were filmed and shared of the girls they had sex with, and chat logs where the celebrities described their sex adventures or the trading of girls were released.
Seungri and Choi Jonghoon both announced their retirement from the entertainment industry, while Jung Joon Young admitted to all of the accusations against him. Yong Junhyung announced he would leave his group, Highlight.
As the reports kept coming out about the misdeeds done by the members of the chatroom, it became clear that there was a person of higher power looking over the members of the chatroom, and protecting them from punishment. Police Superintendent Yoon was implicated as the higher up involved.
Seungri denied the accusations of prostitute soliciting, overseas investment, and gambling that had been levied against him.
This all started with the contents of the chatroom, didn't it? Just like how I spelled "police commissioner" incorrectly in the chats, we were just a bunch of fools bluffing and showing off with each other.

The public perceived this as tax evasion and collusion with the police. At this point, even if I tell the truth, no one will believe me.

— Seungri
Most recently, Jung Joon Young was the first member of the chatroom to be arrested. He also admitted to something for the first time, acknowledging he knew about Monkey Museum's illegal classification as a restaurant. However, he still maintains his innocence regarding the chatroom messages about prostitution, claiming his words were misinterpreted.
Share This Post